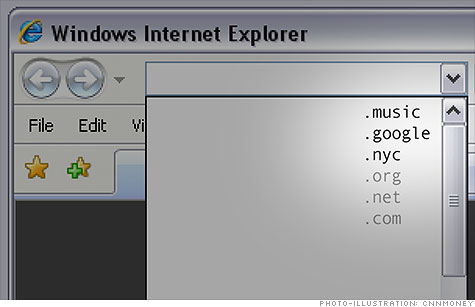 NEW YORK (CNNMoney) -- The Internet's domain system will soon grow astronomically to include .lol, .apple and .golf, but those weren't the most sought-after prizes.
Thirteen applicants filed for .app, and 11 filed for .home and .inc, according to the Internet Corporation for Assigned Names and Numbers (ICANN), the nonprofit organization that manages top-level domains -- the ".com" part of website addresses. ICANN announced the 1,930 proposals on Wednesday for the soon-to-be-expanded top-level domain system.
Right behind .home and .inc was .art with 10 applications. The domains .blog, .book, .shop and .llc drew nine each, and .design, .movie and .music each attracted eight applicants.
When ICANN receives more than one application for a top-level domain, the applicants can try to negotiate between themselves and come to an agreement -- one that will probably involve cash. Otherwise, the name goes to auction, which could set the winning bidder back millions, according to those following the process.
Some of the bidding wars are going to pit tech titans against one another. Archrivals Microsoft and Google both applied for .docs and .live.
But the biggest battle will be between Google and Amazon, which both want a whopping 20 of the same domains, including .book, .buy, .dev, .drive, .free, .game, .mail, .map, .movie, .music, .play, .search, .shop, .show, .spot, .store, .talk, .wow, .you, and .cloud. That last one is also being pursued by security giant Symantec.
Google (GOOG, Fortune 500) and Amazon (AMZN, Fortune 500) were among the largest applicants, with 102 and 76 names applied for, respectively. Microsoft (MSFT, Fortune 500) applied for 11, Wal-Mart (WMT, Fortune 500) applied for six, and Apple (AAPL, Fortune 500) applied for just one: .apple.
The top applicants weren't companies you've heard of -- they're new businesses set up specifically to take advantage of this event. Companies like Top Level Domain Holdings, which applied for 70 top-level domain names, and United TLD, which applied for 26, are hoping to accumulate names to sell to Internet registrars like GoDaddy.
Many of their sought-after names were common English words, but others included the .com and .org suffixes in other languages, such as Arabic, Japanese, Chinese and Hebrew, among many others.
But the most-active applicant by far was Donuts Inc., which applied for a stunning 307 top-level domain names.
Donuts, a Web registry founded in 2011, has raised more than $100 million from investors, a stash the company plans on dipping into to fund its bidding on contested names.
In addition to a wacky list that includes .wtf, .sucks and .pizza, Donuts applied for dozens of names that are contested by big companies with deep pockets, like Google and Amazon.
Still, Donuts' executives say they're excited to head into the fray.
"Our initial reaction is one of tremendous satisfaction, as we have a bunch of uncontested names," said Daniel Schindler, one of Donuts' four co-founders.
Donuts has already priced out what it thinks each domain it applied for is worth. It plans to bid up to that amount when the auctioning starts.
"We've got the resources to ensure we win those contention sets when they're worth it," Schindler said.
Sorting out all those logistics is going to take months, at a minimum. ICANN expects the first new domains to actually go live in "early" 2013; applicants say April or May seems like the soonest possible target.
-- CNNMoney staff writer Julianne Pepitone contributed reporting to this article