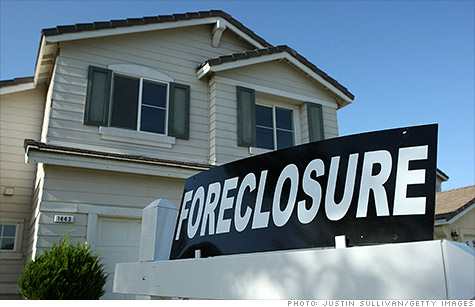 With the industry's settlement over 'robo-signing' behind it, banks are no longer hesitant to issue foreclosure filings.
NEW YORK (CNNMoney) -- Foreclosure filings in May spiked 9% compared with a month earlier, according to an industry group.
RealtyTrac reported that 205,990 U.S. properties received filings last month, including default notices, scheduled auctions and bank repossessions, marking the first monthly increase since January.
Bank repossessions climbed steeply, up 7% to 54,844, after hitting a four-year low in April.
The industry had anticipated that there would be a new wave of foreclosures once the industry resolved the "robo-signing" issues, which came to light in late 2010. A settlement was finalized last April.
Robo-signing put the methods used by the banks to repossess homes under intense scrutiny. That forced lenders to slow the foreclosure process to make sure their paperwork was legal and proper.
Once the banks reached a massive $26 billion settlement with state attorneys general over processing abuses, it was expected that they would step up their foreclosure efforts.
"With the settlement, it makes sense that the lenders would feel more confident pushing delinquencies through to foreclosure in May," said Daren Blomquist, a spokesman for RealtyTrac.
There was also a 12% jump in foreclosure starts. "The jump in May foreclosure starts shows that it's going to be a bumpy ride down to the bottom of this foreclosure cycle," said Brandon Moore, CEO of RealtyTrac.
Georgia had the highest foreclosure rate, the first month since February 2006 that the state led all others. Arizona was second, Nevada third and California fourth.
Riverside, Calif. had the highest rate of any of the 20 largest U.S. metro areas, followed by Atlanta, Phoenix and Chicago.
There has been a gradual change in how foreclosures are ultimately disposed of: Homes with delinquent loans are now more likely to exit the foreclosure process as a short sale than in the past, according to Blomquist.
"Short sales are driving down bank repossession numbers," he said.
And short sales also produce tangible benefits for both the banks and the market, according to Moore.
Sales of pre-foreclosures aren't as damaging to neighborhood home values as bank-owned sales can be, he said. And they're also better for lenders and servicers, since they sell at a higher average price point than bank-owned homes," Moore added.