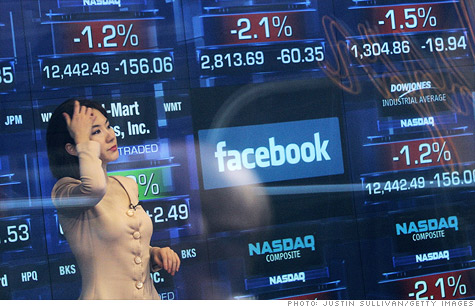 The Facebook IPO was full of problems from day one, when a "technical error" on the Nasdaq exchange led to trading delays and other issues.
NEW YORK (CNNMoney) -- "Don't blame us!" was the theme of a Facebook court filing submitted Friday in response to lawsuits that shareholders filed after the company's disastrous IPO.
More than 40 lawsuits in different state and federal courts have been filed in the weeks since Facebook (FB) went public on May 18.
The offering was plagued with problems. On day one, a "technical error" on the Nasdaq exchange led to delays and errors in Facebook trades. Later, allegations surfaced that Facebook disclosed certain financial information in advance to analysts for big banks and not to average investors.
Friday's filing was Facebook's first response to the lawsuits, which the company wants consolidated into one case in a New York court.
Facebook used the filing to preview its defense, blaming Nasdaq for the trading issues that marred its debut day. It also admitted to having private conversations with analysts, but insisted it "followed customary practices" and didn't disclose anything improper.
First, the company tackled the Nasdaq (COMP) meltdown.
'Shock and awe': Problems with Nasdaq's software systems made a hash of Facebook's first few trading hours, leaving many buyers in the dark about what they had bought and at what price they scored shares.
Those problems "created market uncertainty and caused investor losses," Facebook said in its court filing. It pointed to the mea culpa Nasdaq issued, and quoted a smattering of press articles spotlighting the role Nasdaq's errors played in Facebook's share-price drop following its IPO.
"The head of NASDAQ's trading operations reportedly responded with 'shock and awe' over a mess out of his control," Facebook wrote, citing a Wall Street Journal article.
A Nasdaq spokesman declined to comment. Facebook's representatives declined to elaborate on the statements made in the company's court filing.
'Selective disclosure': On May 23, a group of Facebook shareholders filed a lawsuit against Facebook, Morgan Stanley (MS, Fortune 500) and other banks alleging that important information about Facebook's financial outlook was "selectively disclosed" to big banks ahead of the IPO.
The information involved specifics about Facebook's mobile revenue problems, which the company did disclose -- in less specific ways -- in a publicly available amendment to its IPO paperwork.
Facebook admitted in its court filing to having "follow-up conversations" with analysts from the banks underwriting its offering. Those analysts, according to the plaintiffs, then "discussed their forward-looking forecasts with certain institutional investors."
Even if they did, nothing illegal happened, according to Facebook.
"[Plaintiffs] ignore that what Facebook and the Underwriter Defendants allegedly did both followed customary practices and did not violate any rules," the company said in its filing.
Similarly, Morgan Stanley has insisted that it followed "the same procedures for the Facebook offering that it follows for all IPOs."
Morgan Stanley CEO James Gorman elaborated on that theme in a CNBC interview last month.
"There was no nefarious activity. There wasn't any desire to obfuscate or hide [information]," Gorman said during that interview. He also acknowledged that several regulatory bodies are looking into the allegations.