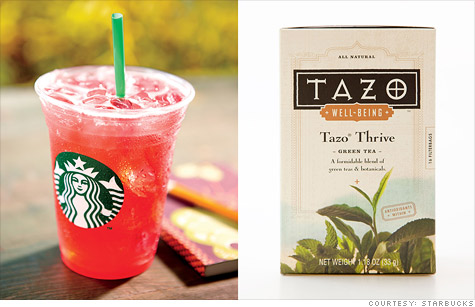 Starbucks will open a Tazo tea store in Seattle's University Village in the fall, with over 80 varieties of loose-leaf tea to choose from.
NEW YORK (CNNMoney) -- Starbucks will continue to grow beyond its coffee roots, announcing plans to open a tea-only store under the Tazo brand.
At the 1,700-square-foot store, set to open near the company's headquarters in Seattle's University Village in the fall, tea enthusiasts will be able to choose from over 80 varieties of loose-leaf tea priced by the ounce, something that regular Starbucks (SBUX, Fortune 500) locations don't offer.
The shop's tea bar will sell the standard iced teas and lattes that customers are accustomed to, but the hallmark of the new location will be its blending station. Employees, dubbed partners, will be on hand to help create personalized tea blends for customers to take home in pouches or brew in store.
"It's very much about personalization and interaction and immersing yourself in all-things tea," said Holly Hart, a spokeswoman for Starbucks. "It's not going to be the typical grab-and-go experience."
Hart said this interactivity should be a big enough draw that customers will seek out the specialty shop instead of heading to one of Starbucks' other 17,000 locations worldwide.
"If you think about going to wine tastings where you're standing up, sipping and talking about the flavor profile, that's what this store will look like," she said. "You're not going to walk in, get your tea and leave. It's about the interaction, talking about the flavor and the blend of the tea."
The new store comes on the heels of several other deals aimed at expanding the brand beyond coffee. Earlier this month, Starbucks announced plans to buy Bay Bread for $100 million, and in November, it bought the Evolution Fresh juice brand for $30 million.
The company has also teamed up with Green Mountain Coffee Roasters (GMCR) to market Starbucks-branded K-Cups and will begin selling the Verismo, its own single-serve machine, later this year.
Tazo has been a successful expansion brand for the company because it's multi-channel, Hart said, meaning that it's sold in grocery stores, at Starbucks locations and soon in its own branded shop.
"We see this brand living on its own. It's a brand that can live beyond the green dot," she said.
Starbucks purchased Tazo for $8.1 million in 1999, and Hart says it's now a $1.4 billion brand.
The company has no plans to open other tea-centric locations, but it will continue to focus on growing the Tazo brand.
"The Tazo tea platform is uniquely set up for success and we're putting emphasis on how to elevate it," Hart said. "The retail platform is the first place you'll see that."
Starbucks shares closed down 2.7% to end at $54.12 on Thursday.