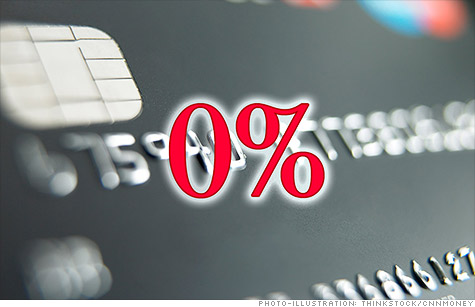 (MONEY Magazine) -- With credit card APRs hovering around record highs -- now 14.45%, up from 10.79% in 2009 -- you'd think that getting away with paying no interest at all would be out of the question.
Not so. In an effort to win new business, more card issuers are offering 0% intro periods. And CardHub.com found that the finance-free windows now average 10 months -- up from seven last year -- with many lasting as long as 18.
After disappearing when the economy tanked, "these cards are back, and they're back with a vengeance," says John Ulzheimer of SmartCredit.com.
Taking advantage of such offers can save you hundreds of bucks on a balance you're carrying or a purchase you're about to charge -- but there are catches.
For one thing, you'll likely need a FICO score of 720 to qualify, and 750 to get a large credit limit and the advertised interest-free term, says Ben Woolsey of CreditCards.com.
Perhaps the biggest caveat, though, lies in these cards' regular rates. After the 0% honeymoon, APRs as high as 26% kick in, nearly double today's average. So if you don't erase the balance in time, you could pay more than you would have with the average card.
Still, if you play your cards right, you can avoid that and other traps, to reap real savings. Your best strategy depends on the type of card you're looking for.
0% BALANCE-TRANSFER OFFERS
Worth it if... You're carrying a balance of more than $1,000 -- below that, the savings likely won't be significant -- and you can afford the monthly nut needed to pay what you owe within the new card's 0% term.
Say you have $10,000 in debt at 14.45% and the option of a card that charges no interest for 15 months. By shifting the balance to the 0% card and paying it off in a year, you could save up to $800.
What to beware of: First, you're not guaranteed a specific credit line, so you may not be able to transfer the whole balance.
Second, balance-transfer fees average 3% now, and almost all cards have them. That's a fast $300 cut into the savings noted above on a $10,000 debt.
The balance-transfer tool at creditcards.com/calculators can help you see how much you'd save even with a fee.
Third, new purchases charged to the card are subject to the regular APR -- typically higher than average -- and payments are directed to the highest-rate debt first. So, while wiping away the balance, don't use the card.
What to look for: The lowest transfer fee, with a term that leaves you enough time to pay off your debt.
Best deal now: Chase Slate (chase.com), which waives its 3% fee if you move your debt in the first month. The card gives 15 months at 0%, with no annual fee.
0% NEW-PURCHASE OFFERS
Worth it if... You're planning a big purchase that you were going to charge anyway. Or you want to give your budget a break by spreading out payments vs. paying upfront.
What to beware of: As with the balance transfer, you need to be diligent about payment so that your savings aren't undone by the normal APR. You'll also want to avoid putting more on the card than intended.
Unlike the balance-transfer cards, new purchases made within the window on these cards get the 0% rate. But the more you owe, the bigger the payment needed to erase the balance in time.
What to look for: Depends on your priority. Would you rather have more time to pay off your purchase? Citi Simplicity (citisimplicity.com) grants 0% on charges for 18 months, with no annual fee.
Want a rebate on your purchase? Few 0% cards offer rewards, but Chase Freedom (chase.com) -- which provides 0% for 15 months for no annual fee -- gives at least 1% and as much as 5% cash back depending on the type of purchase.