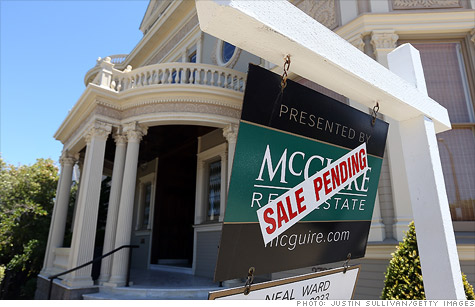 Home prices have risen as the share of distressed properties on the market has dropped.
NEW YORK (CNNMoney) -- Home sales slowed slightly in May, as the housing market continues on its bumpy road to recovery.
Sales of existing homes in May slipped 1.5% versus the month prior, the National Association of Realtors said Thursday, to an annualized rate of 4.55 million.
Analysts say that demand among potential homebuyers remains solid, with many having put off purchases during the downturn in the past few years. Home prices remain affordable and mortgage rates are at record lows, but limited access to credit and high downpayment requirements are holding back sales.
"The home sales market is still on the mend. But the path to recovery will be a slow and bumpy one," Patrick Newport, an economist with IHS Global Insight, wrote in a research note Thursday. "The key obstacle to a strong recovery right now is tight credit."
The May sales figures are still a big improvement versus last year, up 9.6% compared with the annualized sales rate of 4.15 million in May of 2011, the NAR said. The median existing home price in the U.S. rose 7.9% over the same period, according to the report.
This price rise has come in part because of tightening supply, as the number of distressed properties on the market -- foreclosures and short sales -- has dropped. While prices may fall in the short term as more foreclosed properties hit the market, they should bounce back by the end of the year, said Gus Faucher, senior economist for PNC Financial.
"I think what we're seeing is that the housing market is in the early stages of recovery," Faucher said. "Access to credit will gradually improve, so it will be easier for people to obtain mortgages over the next few years."