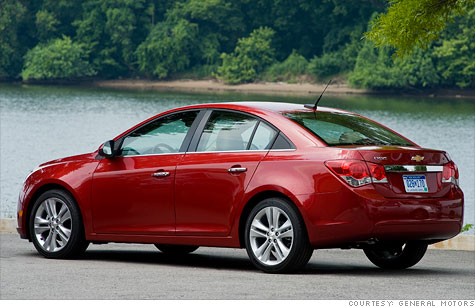 Dealers will modify an engine shield that could create a fire hazard.
NEW YORK (CNNMoney) -- General Motors is recalling 413,418 Chevrolet Cruze small cars to modify an engine shield that could create a fire hazard.
The engine shield, a large plastic piece that is installed under the front of the car to protect the engine, could trap oil that is accidentally spilled or dripped during oil changes.
Also, in cars with manual transmissions, driving with a worn clutch can cause burning hydraulic fluid to squirt from the clutch housing. The flaming fluid can ignite the engine shield leading to an engine compartment fire.
In a separate action involving some of the same cars, GM dealers will also inspect welds in the rear compartment to ensure they were properly applied. As many of the 249 of the cars may have incomplete welds.
The recalls involve all Cruzes built in the United States from September 2010, when the car first went into production in the U.S., through May, 2012.
The recalls follow a preliminary investigation by the National Highway Traffic Safety Administration into two engine compartment fires in 2011 Chevrolet Cruzes.
There are no known crashes, injuries or fatalities related to either recall, GM said in a press release Friday.
GM (GM, Fortune 500) dealers will modify the engine shield by cutting away parts of it, creating holes that will allow fluids to drip through. The modification process that will take about 30 minutes. Owners should make an appointment with their dealers "at their earliest convenience," GM said in a statement.
Weld repairs, if necessary, will take about three hours, GM said.
Notification letters will be mailed to owners beginning July 11.
The Cruze compact car was GM's replacement for the Chevrolet Cobalt. It was the company's best-selling car model last year.