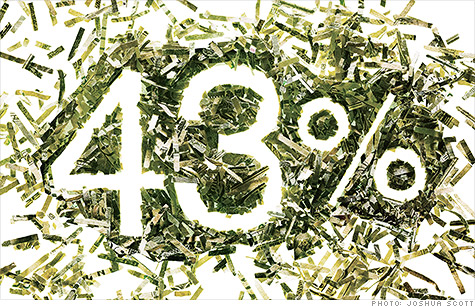 43% of Americans cut out cash for a week
(MONEY Magazine) -- Are cash payments becoming a thing of the past?
Money never goes out of style, but the paper version seems to have lost some appeal: Able to buy stuff with debit cards, credit cards, and even mobile phones, two in five adults have gone cashless for an entire week, according to a recent survey by Rasmussen Reports.
While plastic is convenient, it's also a threat to thrift: A 2011 study found that people paying with cash think more about a purchase's costs; those using credit dwell more on the benefits -- and are primed to pay more.
MAKE IT PAY
Using cash? Ask for a discount. Changes to Visa and MasterCard rules in 2010 permit merchants to cut prices for customers bearing legal tender.
Mom-and-pop shops might knock 2% to 3% off your bill, says SmartCredit.com CEO John Ulzheimer.
Using plastic? Put off buying unplanned purchases a few days, says Connecticut College psychology professor Stuart Vyse.
You'll duplicate the cash-economy delay of having to get money from the bank -- and give yourself time to reconsider what you really need to buy.