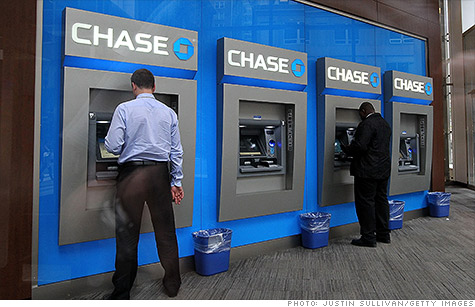 NEW YORK (CNNMoney) -- JPMorgan Chase will soon stop charging overdraft fees for debit card purchases of $5 or less.
Currently, customers enrolled in overdraft protection who have already overdrawn their account and make additional purchases are hit with a $34 fee per purchase, no matter how small the transaction. And they can get hit with overdraft fees as many as three times a day -- adding up to a total of $108 per day.
But starting July 22, this will no longer be the case. Any charge under $5 will not spark an overdraft fee -- no matter how many of these small-dollar transactions you make.
"Good news, we're making changes to help you avoid fees," Chase (JPM, Fortune 500) told its checking account customers in their statements this month.
The decision wasn't a spontaneous act of charity on Chase's part, however. It's part of a $110 million class action lawsuit settlement the bank agreed to earlier this year in order to resolve claims that it was charging excessive overdraft fees to consumers, according to court documents.
The claims, filed in 2009 by customers in the U.S. District Court for the Southern District of Florida, alleged that the bank processed transactions from the highest dollar amount to the lowest instead of processing them chronologically, causing accounts to be overdrawn more quickly and for a larger number of purchases to spark overdraft fees.
The lawsuit was part of a broader class action case involving more than 30 banks. Many of those banks have also made big settlements recently -- with Bank of America (BAC, Fortune 500) agreeing to a settlement of $410 million in November, for example.
Chase spokesman Patrick Linehan didn't comment on the settlement but said the bank has "made a number of recent changes to our account policies, disclosures and fees to make it easier to bank with Chase."
Chase already updated its overdraft policy in 2010 to eliminate overdraft fees if an account is overdrawn by less than $5 at the close of a business day -- a policy that other banks, including Wells Fargo (WFC, Fortune 500), have as well. Chase also began processing transactions chronologically.
But Wells Fargo has yet to take the specific step Chase has, a bank spokeswoman said. Bank of America and Citi haven't either, but they have stopped authorizing debit card transactions at the point of sale if the customer doesn't have enough money in their account. The move reduces many of the overdraft fees charged on many small-dollar transactions, a Bank of America spokeswoman said.
SunTrust (STI, Fortune 500) is one of the few banks that states in its schedule of fees that it doesn't charge any overdraft fees for purchases under $5. Jean Ann Fox, director of financial services for the Consumer Federation of America, said that Chase and SunTrust appear to be among the first big banks to do this.
Fox said eliminating overdraft fees for point-of-sale transactions -- like Citi and Bank of America have done -- is more beneficial for consumers, however, because Chase customers can still be hit with excessive overdraft fees.
"If you don't have enough money in your account to cover your purchase or withdrawal, the bank should deny it," she said. "Even with Chase's new policy, consumers who opt in to debit card overdraft [protection] will pay $34 to borrow $5.01."
Despite the different efforts by the banks, the overdraft services they offer still have a long way to go, according to a study released this month by the Pew Safe Checking in the Electronic Age Project which reviewed the checking accounts offered by the 12 biggest banks.
The study showed many banks are still gouging consumers with excessive overdraft fees and found that even though banks are now required to give consumers the option of enrolling in overdraft protection, the high costs associated with the services are not adequately disclosed.
More banks are also charging extended overdraft penalty fees, which are incurred if an account remains overdrawn for a certain period of time. The median overdraft fee is $35, while the median extended overdraft fee is $33, and these fees add up to billions of dollars a years, Pew found.
Recognizing the concerns many consumers and advocacy groups have about overdraft fees, the Consumer Financial Protection Bureau is currently seeking public comment on a sample overdraft penalty fee box that would clearly explain the total overdraft fees charged for the amount that the account was overdrawn.
It has also launched an inquiry into overdraft programs to find out whether they are harming customers. To conduct the inquiry, the agency has requested data from a number of banks and will look at the order in which transactions are processed, missing or confusing information, misleading marketing materials and whether the service is having a disproportionate impact on low-income and young consumers, the CFPB said.