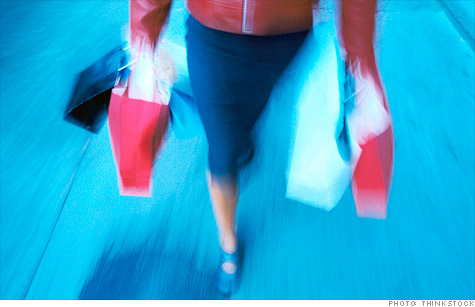 (MONEY Magazine) -- Does cash seem to slip through your fingers? A little tough love and self-discipline will keep you from spending more than you should.
This is part of a special report on 101+ ways to build wealth. In this story, readers and experts weigh in with advice on how to identify the spending leaks that are undermining your savings plan.
Curb your enthusiasm. A recent British study found that men spent the equivalent of about $40 a week on impulse buys; women, $30.
For a couple, that's $3,640 a year that you weren't counting on spending. Cut those unplanned indulgences in half and invest the savings at 7% annually, and you'd have nearly $75,000 after 20 years.
A good way to keep yourself in line is simply to carry a set amount of cash that you can blow, and keep credit cards at home.
Cut off your kids...
$11,800: The average annual handout to children from parents or grandparents
Does this average from a recent MetLife survey sound like you? Give 50% less and invest the rest for 20 years at 7%, and you'll have nearly a quarter of a million.
...Or construct gifts as loans.
When your child comes to you needing a big chunk of cash for something major -- say, $20,000 for a car -- consider offering a loan instead.
To avoid making it a gift, you'll need to charge at least 1.07% in interest, the minimum five-year rate currently required by the IRS.
Your kid still gets the wheels and, unlike handouts, you'll get your money back and earn a better rate than you can on a savings account these days.
Refi to a shorter term. Got breathing room in your budget? Historically low mortgage rates may make it feasible for you to switch to a shorter-term home loan, for significant savings.
With a $250,000 balance and 21 years left, refinancing from a 30-year fixed at 5.4% to a 15-year loan at 3% will cost you $66 more a month but save you $107,727 in interest -- and cut six years off your payment time.
MONEY MAGAZINE READERS WEIGH IN
Mmm... Leftovers
"Looking at what was spent over the past three months, we were surprised at where it was all going. Eating out was over $400 a month! Now I make my lunch and save a whopping 80%." -- Richard Gostautus, Levittown, Pa.
Be sure before you buy
"When going shopping, if you find something you want to buy, put it on hold. Divide the cost into how many times you'll use it to see if the price is worthwhile -- or whether you should wait until a sale." -- Jeri Honda, Victoria, Minn.