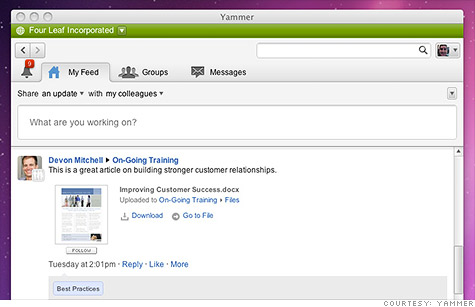 Yammer lets businesses can set up private "social" networks where employees can communicate.
NEW YORK (CNNMoney) -- Is corporate America ready to adopt social networking alongside traditional office tools like word processing apps and spreadsheets?
Microsoft is making a big bet in that direction. It has acquired Yammer, an "enterprise social networking" startup, for $1.2 billion in cash. The deal is Microsoft's (MSFT, Fortune 500) biggest acquisition since Skype, which it bought last year for $8.5 billion.
Yammer operates like a gated Facebook (FB): A business can set up a private network where employees can post announcements, share files, create events, swap messages and more. It also offers more traditional corporate features like a content management system and an "extranet" that businesses can use to communicate with outside contacts like customers and vendors.
Buying Yammer "underscores our commitment to deliver technology that businesses need and people love," Microsoft CEO Steve Ballmer said in a prepared statement.
Yammer, which was founded in 2008, had raised about $142 million in venture funding. It claims more than 5 million corporate users, including 80% of the Fortune 500 list.
The companies' joint statement said Yammer "will continue to develop its standalone service," and that it will also be paired with "complementary offerings from Microsoft SharePoint, Office 365, Microsoft Dynamics and Skype."
On a conference call immediately following the press release, journalists asked several more questions about what the Yammer integration will look like.
But executives wouldn't get specific, instead throwing out corporate-speak about "natural synergies."
After a few minutes of that, one reporter asked if he should look to the the Skype incorporation as a model for how Yammer will fit in with Microsoft.
Ballmer replied simply: "Sure."
Microsoft did confirm that Yammer and its staff will continue to be based in San Francisco -- not at Microsoft's headquarters Redmond, Wash. Yammer will be part of the Microsoft Office division.
So-called "enterprise social" startups have been hot in the M&A space lately. Salesforce (CRM) snapped up the social media marketing company Buddy Media last week for a cool $689 million. That was just one month after Salesforce bought collaboration software company Stypi.
In late May, Oracle (ORCL, Fortune 500) acquired Buddy Media competitor Vitrue for a reported $300 million.