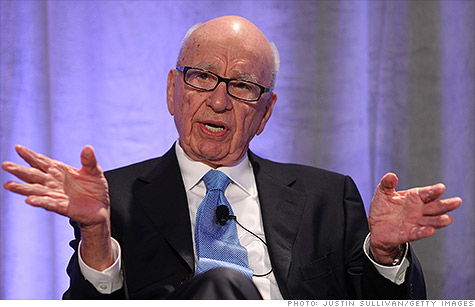 Rupert Murdoch might split News Corp. into two companies, according to news reports.
NEW YORK (CNNMoney) -- News Corp. confirmed Tuesday that it is mulling a split into two companies, with one company encompassing its television and film assets and the other including its publishing entities.
The split would separate the 20th Century Fox film studio, Fox broadcast network and Fox News Channel from newspapers and book publishing, according to The New York Times and News Corp.'s own Wall Street Journal, in which the proposal was first reported.
News Corp.'s (NWS) publishing unit also includes newspapers such as The Times of London and The New York Post. Its book publishing assets include HarperCollins.
"News Corporation confirmed today that it is considering a restructuring to separate its business into two distinct publicly traded companies," read the statement issued by the company in its entirety.
News Corp. is controlled by media magnate Rupert Murdoch. He has been hounded in recent months by criminal investigations into his company over hacking into people's phones and improper collusion with British police. The scandal prompted News Corp. to shut down its venerable old British tabloid News of the World earlier this year.
A report last month from a British Parliament committee said that Murdoch was not a "fit person to exercise the stewardship of a major international company."