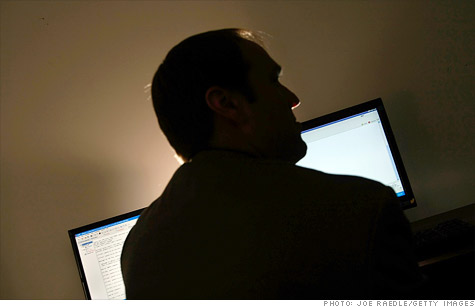 A series of cybercrime arrests followed a global, two-year investigation.
NEW YORK (CNNMoney) -- Two dozen people have been arrested in the U.S. and around the world in a coordinated crackdown on financial cybercrime, officials said Tuesday.
The suspects, collared after a two-year investigation dubbed "Operation Card Shop," allegedly stole credit card and banking data and exchanged it with each other online.
"Spanning four continents, the two-year undercover FBI investigation is the latest example of our commitment to rooting out rampant criminal behavior on the Internet," Janice Fedarcyk, assistant director at the FBI's New York field office, said in a prepared statement.
The 24 suspects were arrested in 8 countries, with 11 people apprehended in the U.S. on Monday and Tuesday, including two minors.
Six people were arrested in the United Kingdom, two in Bosnia, and one each in Bulgaria, Norway, Germany, Italy and Japan. A number of other countries also aided in the investigation, the Manhattan U.S. Attorney's office said in a statement.
"As the cyber threat grows more international, the response must be increasingly global and forceful," Manhattan U.S. Attorney Preet Bharara said.
Bharara called the crackdown "the largest coordinated international law enforcement action in history" directed at criminals who use the Internet to traffic in stolen credit cards and bank account data.
Some of those apprehended, however, appear to have been relatively small-time operators.
A 21-year-old Massachusetts man arrested in the sting stands accused of helping use stolen credit card information to purchase 5 Dell laptops, jewelry and synthetic marijuana. A 19-year-old Georgia man is charged with picking up an iPad and a handful of other Apple products from local retailers after a co-conspirator bought them with stolen card data.
"It didn't seem to me like there were any really big networks taken down in this bust," said Josh Daymont, principal at cybersecurity firm Securisea.
In addition to those arrested this week, charges were unsealed Tuesday against four other suspects who remain at large.
Law enforcement officials accessed the suspects' communications in a sting operation by setting up an undercover online forum called "Carder Profit." When the targets used the forum to communicate, investigators tracked their conversations.
Over the course of the operation, the FBI notified credit card providers about more than 411,000 compromised credit and debit cards. The U.S. has an estimated 1 billion payment cards in circulation.
The FBI claims to have prevented an "estimated" $205 million in losses, though that theoretical number is almost impossible to link back to real-world losses.
Agents also tipped off 47 companies, schools and government offices whose networks were breached, the U.S. Attorney's office said.
-CNN's Carol Cratty contributed reporting.