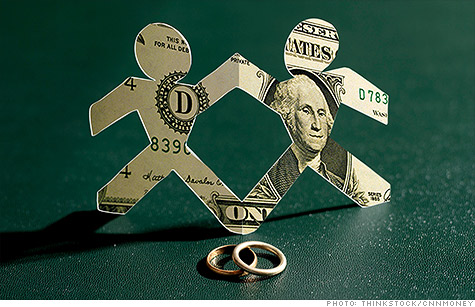 NEW YORK (CNNMoney) -- Many big firms are trying to make financial planning a lot more gay-friendly.
A growing number of financial planning firms, including Wells Fargo (WFC, Fortune 500), Bank of America Merrill Lynch (BAC, Fortune 500), Morgan Stanley Smith Barney (MS, Fortune 500), UBS (UBS) and Marcum LLP, are launching divisions that focus solely on lesbian, gay, bisexual and transgender (or LGBT) clients or helping their advisors get certified to handle the unique financial issues same-sex couples face.
Whether it's a lack of Social Security survivors benefits when a partner passes away or the inability to file federal tax returns jointly, a slew of complications arose for same-sex couples following the 1996 passage of the Defense of Marriage Act, which defined marriage as a union between a man and a woman.
Things have only gotten more complicated for same-sex couples as some states legalize gay marriage and civil unions.
"The demand for specialized financial services has increased as more states pass laws that recognize same-sex marriage," said Ryan Svatora, senior wealth strategy associate at Zinn, Ray & Svatora Group, an LGBT-dedicated practice at UBS. "As this social progress continues, it can lead to further complications as the rights bestowed to same-sex couples differ on state and federal levels."
And with an estimated population of 16 million to 20 million LGBT individuals in the country, according to the National Gay & Lesbian Chamber of Commerce, there's plenty of incentive for these financial firms to help.
Svatora said assets at his practice have been increasing by about 15% per year, with $250 million in assets currently under management.
Kyle Young, vice president-investment officer at Wells Fargo Advisors, said the majority of his LGBT clients are very high-income earners, particularly because the same-sex couples he works with tend not to have many children -- if any -- and often have more time to focus on their career.
"There's a real business opportunity here," said Young. "We're providing a much-needed resource and at the same time, it's a very clear business decision. And the demand for the kind of resources we provide is just going to grow going forward."
Help for same-sex couples: Earlier this month, one of the biggest independent accounting firms in the country, Marcum LLP, launched a national LGBT & Non-Traditional Family Practice Group. The new group said it will provide experts to help same-sex couples navigate changing financial and tax laws and assist them with their tax returns, trusts and estates.
Last year, Chicago-based Northern Trust opened an LGBT-dedicated division to offer specialized wealth management services.
Meanwhile, many other financial firms are starting programs where their financial advisors can get certified to work with same-sex couples through the College of Financial Planners, the organization that also certifies Certified Financial Planners (CFP).
Anyone with at least one other certification, such as a CFA or CFP, can become an Accredited Domestic Partner Advisor (ADPA) by taking a series of online courses and passing an exam about the different financial issues that arise for same-sex families and the strategies that should be used to address them.
Wells Fargo worked with the College of Financial Planning to develop the ADPA certification, and the program was opened to all advisors in late 2010.
At Wells Fargo, the number of ADPA-certified advisors has grown from 25 in 2010 to 109 so far this year. Nationwide, there are more than 200 -- up from 82 advisors in 2010 -- as many big banks jump at the opportunity to get their advisors certified.
Bank of America Merrill Lynch, which created one of the first LGBT-specific practices on Wall Street about nine years ago, began offering a program at the beginning of June (to coincide with Gay Pride month) that reimburses its advisors for the typical $585 cost of getting ADPA-certified. And the College for Financial Planning says on its website that it has discount agreements with more than 150 financial service companies.
Morgan Stanley Smith Barney started offering the course to its advisors at a discounted rate last year. So far, 25 of Morgan Stanley's advisors have already earned the designation and 22 are in the process.
UBS has also been promoting the ADPA designation and is currently developing its own internal certification for advisors who take a comprehensive course on LGBT financial planning.
Learning the challenges LGBT clients face: Not just any advisor is prepared to deal with the unique financial pitfalls that same-sex couples face, said Young, who was one of the creators of the ADPA certification.
"Advisors are marketing themselves to the LGBT community as experts for same-sex planning when in reality they have no idea how different planning is for same-sex couples than it is for married couples," he said.
Couples who aren't married under federal or state law, for example, can't file joint tax returns, which means they may miss out on certain tax deductions. Even when legally married at a state level, they have to file separate state and federal tax returns.
Many same-sex couples are also often denied access to their partner's pension plan and health care benefits, and won't be eligible for Social Security survivors benefits if their partner passes away. And the list goes on -- including complications with retirement planning, wealth transfer and estate planning.
The ADPA exam might ask how to plan for the tax hit one partner would take if they inherit their partner's estate, said Young. If the couple were heterosexual, the surviving spouse could inherit the entire estate tax-free. But because same-sex couples aren't recognized as married by the federal government, the surviving partner would be charged a 35% estate tax on anything over $5 million that is transferred. Therefore, an acceptable answer would be that the couple could take out an insurance policy as protection against whatever assets would be lost in taxes, he said.
"In today's ever-changing financial and legal environment, it's important for same-sex couples to work with an advisor or group that specializes in LGBT issues," said Svatora.