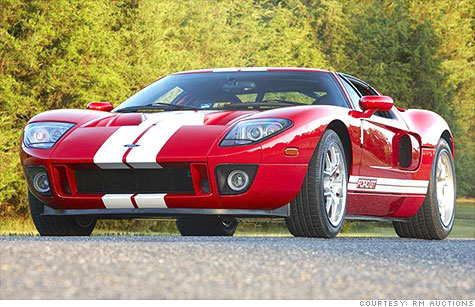 This Ford GT will be sold by RM Auctions on July 28, It's expected to go for at least $175,000. Ford GT's have never been worth less than their original sticker prices.
NEW YORK (CNNMoney) -- Most six-year-old cars are worth about a third of their original sticker price, and even most high-performance exotic cars lose substantial value over that amount of time.
But one carmaker created an automobile that broke all the normal rules and that is -- six years after its introduction -- actually worth more than its original price. And it wasn't any fancy European ultra-luxury brand, either. It was Ford Motor Co. (F, Fortune 500)
In fact, the Ford GT -- a 550-horsepower mid-engine sports car -- has never been worth less than the $150,000 Ford originally asked for it during the two years it was in production, according to data from Hagerty Insurance, a company that specializes in insuring collectible cars.
"It is probably the only American car that has done so," said Don Rose, a car specialist with automotive auction house RM Auctions.
Unveiled as a concept car in 2002, the Ford GT was produced for only the 2005 and 2006 model years. In all, only about 4,000 were made.
But not every Ford GT owner has made out, however.
When typically equipped, many of the earliest Ford GT's were sold for as much $250,000 as Ford dealers reaped huge profits on them. By 2006, the second and last year of its production, the cars were selling for roughly sticker price.
"It just goes to show you, the guys who have to be first on the block with the hot new car really lose out," said Jeannine Fallon, a spokeswoman for the auto pricing Web site Edmunds.com. "In this case, the people who waited and bought later got an amazing deal."
Ford (F, Fortune 500) GT auction values reached their peak shortly after the car went out of production, reaching about $175,000, according to Hagerty. Things have settled down since, but the cars are still going for, on average, about $165,000.
A truly unique American car: The GT is was designed as an homage to the Ford GT40 racecar of the 1960s. That car, designed with the help of performance car legend Carroll Shelby, was created specifically to beat Ferrari in the LeMans endurance race, which it did, winning the 24 hour race in France 4 times from 1966 to 1969 and the World Sports Car Championships in 1966 and '67.
Original Ford GT40 racecars, today, can be worth $1 million to $2 million.
Compared to that or, for that matter, to most similarly capable performance cars, the modern Ford GT remains a relative bargain.
The GT's low starting price is part of what helps it hold its value so well. It has simply never cost as much as its appearance and capabilities would suggest. That also makes it different from most cars with similar power.
"There are very few modern supercars that have increased in value since they were built," sad McKeel Hagerty, president of Hagerty Insurance.
Any other examples -- various Ferraris or the McLaren F1, for instance -- are far more expensive cars that were produced in smaller batches.
"For a car they made 4,000 of and not 300, it's held its value very well," said Craig Jackson, head of the auto auction house Barrett-Jackson.
It's not like buying stocks: Most people don't buy cars like this as an investment. They buy the car because they want the car, which is just what collector car experts advise.
Karl Brauer, who runs the Web site TotalCarScore.com, still owns the Ford GT he bought shortly after the car went into production. He drives it regularly.
"Even if it dropped like a stone in value, I wanted it because of what it represents," he said.
Bauer is an aficionado of high-powered American cars. Besides the GT, his small collection includes a 1970 Plymouth GTX and a 1974 Pontiac Trans Am Super Duty.
Part of the GT's drawing power as a collectible is that it appeals to both muscle car fans like Bauer and to those who favor European-style exotics, said Rose.
"It has the Detroit muscle on the one side and the sports car heritage on the other," he said.
Jackson of Barrett-Jackson owns a black Ford GT that he bought from the factory. He keeps it in his garage next to a $1 million Bugatti Veryon.
"Europe's best and America's best," he said. "I think they compliment each other nicely."