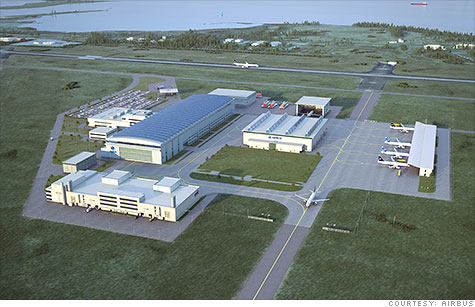 Airbus' first U.S.-based production facility, which will build A320 Family jetliners at the Brookley Aeroplex in Mobile, Alabama, beginning in 2015, will eventually produce between 40 and 50 aircraft annually.
NEW YORK (CNNMoney) -- European aircraft manufacturer Airbus announced plans Monday to build a new facility in Alabama to produce commercial airliners.
Adam Buck, a spokesman for the mayor of Mobile's office in Alabama, said the $600 million facility will begin construction next year and will generate 1,000 permanent new jobs. It will be located on the site of a former Air Force base, where Airbus already has an engineering facility, Buck said.
The facility, Airbus' first manufacturing plant in the western hemisphere, will construct the company's A320 line of single-aisle aircraft, according to a statement distributed by the Alabama governor's office.
"The time is right for Airbus to expand in America," Airbus President & CEO Fabrice Bregier said in the statement. "Mobile is now becoming part of Airbus' global production network, joining our successful and growing assembly lines in Hamburg, Toulouse and Tianjin."
Construction will begin next year, with aircraft assembly projected to begin in 2015. By 2017, the plant is expected to churn out between 40 and 50 planes per year, the statement said.
Planes in the A320 family seat between 107 and 220 passengers, and are used "from very short-haul airline routes to intercontinental segments," Airbus says.
Airbus chief operating officer John Leahy told CNNMoney that having a U.S. manufacturing presence would help the company compete for new business as American airline companies replace their aging fleets.
"All things being equal, even if we have a better product, they tend to stay with a U.S. manufacturer," Leahy said. "A good way to get a bigger place in that replacement market is not just to have the best airplane, but to have the best airplane built in America."
Monday's announcement represents a new challenge to industry rival Boeing (BA, Fortune 500) in the market for U.S. commercial jets. Some analysts believe the Mobile facility will also allow Airbus' parent company, EADS, to compete with Boeing for U.S. defense contracts.
EADS had bid in 2010 for a contract to construct Air Force refueling tankers, planning to produce them in Mobile, but the contract ultimately went to Boeing.
Alabama's manufacturing sector has enjoyed surging growth over the past five years thanks to the state's low taxes, high-quality trade schools and union-weakening legislation. In addition to Airbus, firms including Boeing, Hyundai, Honda (HMC) and truck manufacturer Navistar (NAV, Fortune 500) are expanding in the state.