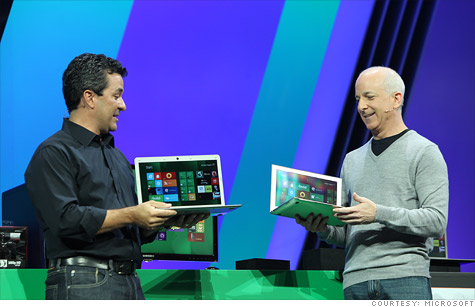 Microsoft executives Mike Angiulo (left) and Steven Sinofsky showed off an early version of Windows 8 at Microsoft's Build conference.
NEW YORK (CNNMoney) -- If you're considering an upgrade to Windows 8 this fall, Microsoft just made the option much cheaper.
The software giant announced Monday that anyone running Windows XP or a more recent version can upgrade to Windows 8 Pro for just $40.
That's significantly less than what Microsoft typically charges customers to update their operating systems. For instance, the cheapest "upgrade version" of Windows 7 for those running older editions of Windows costs $120 on Microsoft's online store. Even upgrading from one Windows 7 version to another will set you back at least $65.
Microsoft (MSFT, Fortune 500) said the $40 upgrade fee is a promotional rate that will last through the end of January 2013, and it will require that users download Windows 8 over the Internet. A DVD version will be available in stores for $70 throughout the promotion.
The company didn't say anything else about Windows 8's general pricing or availability.
Slashing the price of a new OS worked well for Windows' biggest competitor. Apple (AAPL, Fortune 500) has charged just $29 to upgrade to the last two versions of Mac OS X, and when the newest update called Mountain Lion goes on sale later this month, the company will charge just $20.
Nearly 85% of Macs are running the latest Mac OS 10.7 (Lion) or the previous version, Mac OS 10.6 (Snow Leopard), according to Net Applications.
That rapid adoption hasn't been matched by Microsoft customers. Almost half of Windows PCs are still running the 11-year old Windows XP.
Upgrading an aging PC to a brand-new version of Windows is usually a bad idea -- Windows can be a notorious resource hog -- but Windows 8 could be the exception. It's the trimmest and quickest of all of Microsoft's recent Windows releases.
CNNMoney has been testing Windows 8 out on a five-year-old, out-of-commission Dell Latitude laptop designed for Windows XP. It booted up in 16 seconds and ran smoothly under a typical application load.
Microsoft has plenty of motive for urging customers to adopt Windows 8.
The Windows 8 operating system is optimized for touchscreens, giving it the ability to adapt to a large number of form factors -- including tablets, which have begun to eat into PC sales. Microsoft last month unveiled its own Surface tablet, which will go on sale when Windows 8 debuts.
But Microsoft's primary concern is getting a critical mass of users so that its new App Store will thrive.
Some versions of Windows 8 will run legacy Windows applications, but the new operating system will prominently feature a tablet-style layout called "Metro," which runs a new version of apps only available in Microsoft's App Store. Microsoft has most of the key apps covered, but its offerings are nowhere close to the hundreds of thousands of apps that Apple and Google have for their smartphones and tablets.
To break the chicken-and-egg problem -- many customers don't want devices until lots of apps are available, but developers won't spend time writing apps for devices until they have millions of users -- Microsoft is working both sides of the issue.
It has tried to lure developers with contests, favorable revenue-sharing terms and other bait. Now, it's aiming to draw in customers with the lowest price it has ever offered for a Windows upgrade.
Some customers can get Windows 8 for even cheaper. The company is running a separate promotion on its website under which customers who buy a Windows 7 PC between June 2, 2012, and Jan. 31, 2013, can get a Windows 8 Pro upgrade for $15.
Those kind of Windows promotions are typical when the latest version is about to be phased out. Offering upgrades at such a discounted rate will likely keep Windows 7 sales afloat through the holidays, when Windows 8 is expected to go on sale.