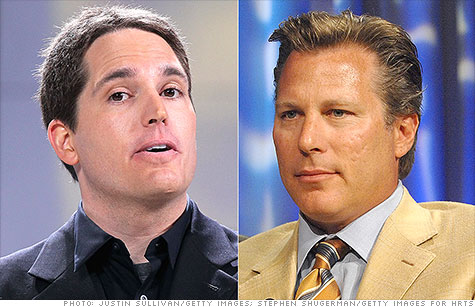 Hulu CEO Jason Kilar (left) doesn't want to take the helm at Yahoo, which could clear the way for current Yahoo interim CEO Ross Levinsohn.
NEW YORK (CNNMoney) -- Hulu CEO Jason Kilar is not interested in becoming Yahoo's new CEO, and he wants to make that very, very clear.
In an unsolicited statement emailed broadly to reporters on Friday, Hulu said: "As has been reported, Jason Kilar has been a focus of the Yahoo CEO search committee. He has graciously declined to be considered."
Yahoo (YHOO, Fortune 500) has been searching for a new CEO since May, when Scott Thompson was ousted after just four months in the wake of a scandal over his embellished college degree.
The shortlist had been whittled down to two men -- Kilar and Yahoo's interim CEO, Ross Levinsohn -- according to reports this week from outlets including tech blog AllThingsD.
Now that Kilar is out of the running, Levinsohn may soon drop the word "interim" from his title. Levinsohn was Yahoo's media chief before being named to the interim CEO post following after Thompson's hasty exit.
Levinsohn had earlier been rumored as a successor to Carol Bartz, who was fired from Yahoo by phone in September, but instead Thompson took the CEO role in January.
Yahoo's former board reportedly went with Thompson in hopes that an outsider could bring a new, fresh look to Yahoo's turnaround attempt.
That didn't work. Now, Yahoo badly needs to put a stop to its CEO revolving door. Levinsohn's media and advertising prowess seems to be a good fit for Yahoo's vision of its future, and he's reportedly well liked within the company.
Other recent Yahoo leaders haven't fared well. Bartz's phone firing followed a tumultuous relationship with the board. Her predecessor, Yahoo co-founder Jerry Yang, stepped down amid shareholder anger after snubbing a buyout offer from Microsoft (MSFT, Fortune 500).
After Kilar's announcement Levinsohn appears to be the only finalist who's interested in the job. If Levinsohn does ascend in Yahoo's ranks, he -- like the long list of people before him -- will have a very difficult turnaround project on his hands.