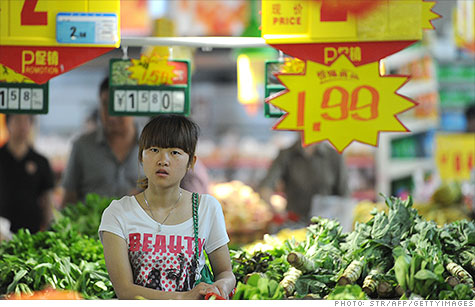 China's annual inflation rate fell to 2.2% in June, as food prices fell.
NEW YORK (CNNMoney) -- Prices are tumbling in China, giving the government more leeway to stimulate the world's second-largest economy.
China's annual inflation rate fell to 2.2% in June, the government's National Bureau of Statistics reported Monday. That's the lowest inflation rate in nearly two-and-a-half years and comes as prices have been falling, especially on food.
Food prices, which account for more than a third of the inflation calculation, fell 1.6% during the month. Compared to a year earlier, they were up 3.8%.
Transportation costs, which count for about a tenth of spending, also fell, as did prices for residential water and electricity.
Overall, China's economic growth has started to slow amid weaker global demand. Simultaneously, inflation has slowed dramatically, freeing China's central bank to stimulate the economy.
The People's Bank of China has lowered interest rates twice in the last month. The central bank has also tried to spur growth by cutting the amount of money banks are required to hold in reserves.
Some economists have raised fears of a so-called hard landing in China, in which economic growth slows sharply. Others believe the government still has plenty of room to act, especially now that rapid inflation is not a problem.
"Inflation continued to ease at a pace slightly faster than expected, which leaves sufficient room for Beijing to take further easing actions," Sun Junwei, HSBC's China economist, said in a note.
Last month, Fitch Ratings researchers predicted the Chinese economy will grow 8% this year, well below the average of 10.5% per year between 2007 and 2011.
Even so, Fitch said China's current slowdown does not compare with its much sharper slump in late 2008.