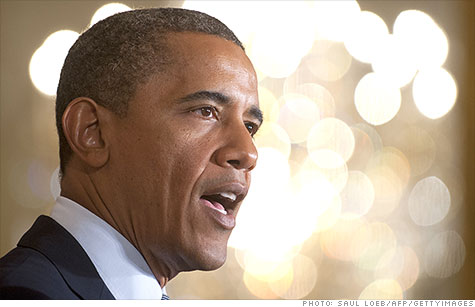 President Obama called on Congress to extend the Bush tax cuts for one year for everyone except high-income housesholds.
NEW YORK (CNNMoney) -- President Obama and Republicans battled Monday over a familiar dividing line: the Bush tax cuts.
While they disagree over taxing the rich, both support extending the Bush tax cuts for the middle class for one year.
Still, middle class Americans may end up paying more in taxes next year anyway. That's because neither side is pushing to extend the payroll tax cut.
The payroll tax cut is worth 2% of one's wages up to $110,100 for 160 million working Americans. It was originally intended as a temporary measure for 2011 but was then extended for this year.
As a result, a person making $50,000 has enjoyed roughly $83 extra a month, while someone making $110,100 has been taking home an extra $183.50 a month.
On an annual basis, if the payroll tax cut is allowed to expire, those making $50,000 will pay another $1,000 in payroll taxes, while those making $110,100 and up will pay another $2,202.
Revenue from the payroll tax is intended for Social Security, which is a pay-as-you-go system. And at this point the system uses every dollar of payroll tax revenue it gets to pay benefits.
The estimated total cost of the payroll tax cut is roughly $120 billion a year. Social Security is not absorbing that loss, however, because the Treasury Department has been replacing the lost payroll tax revenue with money from general funds.
In reality, it's doing so by borrowing money, thereby adding to the country's debt.
So unless Congress decides on a new way to fund Social Security, the payroll tax cut cannot go on forever.
Indeed, Treasury Secretary Tim Geithner said as much before the Senate Budget Committee earlier this year. "This has to be a temporary tax cut. I don't see any reason to consider supporting its extension."
Of course, that doesn't mean some in Congress won't push for one -- especially during an election year in which the economy is weaker than expected.
"For now, supporters of the cuts are keeping quiet," said Sean West, U.S. director of the Eurasia Group. "They may well wait until after the election to push for it specifically."