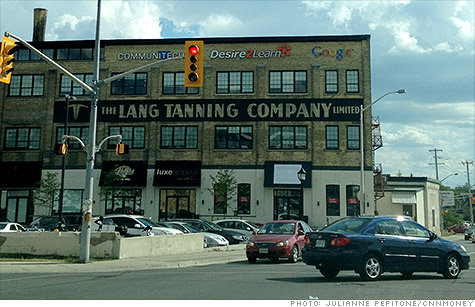 A reclaimed tannery building has become Waterloo's tech hub.
WATERLOO, Ontario (CNNMoney) -- Research in Motion executives will face angry shareholders at their annual meeting on Tuesday, following a dismal year that underscored the BlackBerry's decline.
But if RIM goes under, it's not only shareholders who will suffer. RIM's small hometown of Waterloo, Ontario, may feel the brunt of the fallout.
Waterloo's burgeoning tech scene may have to survive without the influence -- and the funding -- of the company that spawned it.
Thousands of Waterloo-area residents have already been served up RIM pink slips. In announcing 5,000 job cuts last month -- part of an ongoing plan to save $1 billion this year -- RIM's new CEO Thorsten Heins specifically acknowledged the blow to Waterloo.
"It's difficult for the area," Heins said on a conference call following RIM's brutal earnings report. "I [assure you] we would not do this if it were not totally necessary."
Is RIM dying? It lost $518 million last quarter and has about $2 billion left in cash. The company's bankers are exploring "strategic business model alternatives" -- corporate-speak for "uh oh" -- and its much-hyped potential savior, the next-generation BlackBerry 10 operating system, was just delayed again until 2013. RIM (RIMM) shares closed Monday at $7.67, down 47% for the year.
Heins insists the business he took over six months ago has stabilized.
"We expect to empower people as never before," he wrote last week in an op-ed describing RIM as a company "at the beginning of a transition that we expect will once again change the way people communicate."
He'll have a chance to expand on that vision at Tuesday's annual meeting. Local TV news and radio stations were buzzing Monday night about the highly anticipated gathering.
But the common wisdom is that at some point pretty soon, the Canadian tech icon will cease to exist in its current form. That leaves Waterloo, population 100,000, with a big question: What next?
RIM's influence is everywhere in Waterloo and Kitchener, an adjacent city of 220,000 residents whose downtown is dotted with small boutiques and new construction.
It's in the local universities, which have received millions in donations from both RIM and the personal pockets of former co-CEOs Mike Lazaridis and Jim Balsillie. It's in RIM Park, the 500-acre activity center that's home to ballfields and an 18-hole golf course.
Perhaps most importantly, RIM's influence has shaped the local populace. It has long been the company that attracted techie types to the town, and many of those in the Waterloo tech scene are RIM alumni.
That's apparent in the epicenter of Kitchener-Waterloo's tech home base: The Communitech Hub, a 44,000-square-foot startup incubator housed in a reclaimed tannery building.
Communitech offers services to about 800 companies, and nearly 100 are located in the urban-industrial-chic Tannery HQ.
"It would be a challenge to find one [of the 100 resident companies] who didn't have someone who worked at RIM, or at least did a co-op during school," says Iain Klugman, Communitech's CEO. "RIM has played an important part in luring talent here with its global reputation."
Following RIM's series of mass layoffs, part of Communitech's role has been "absorbing" those workers and keeping the talent in Waterloo, Klugman says.
Like many local residents, Klugman strikes an optimistic tone when talking about the future of RIM. The company's not dead yet, he says.
Of course, Klugman has a vested interest in speaking well of RIM -- the company helped fund Communitech's new Hyperdrive startup incubator. A few BlackBerry posters adorn a space decked out with a device showcase.
Still, Klugman is adamant that Waterloo is no longer just the town that BlackBerry built.
"If [RIM's problems] had happened a few years back, then maybe it would be a different story," he says. "About three years ago, [Waterloo] really reached a tipping point and started to become a real startup community."
Beyond startups, big companies including Intel (INTC, Fortune 500) and Sybase have significant operations in the area. Google's (GOOG, Fortune 500) Canadian engineering office is also housed in The Tannery, next to Communitech.
"Once we get VCs or partner companies out to this area, they're almost always surprised at how active [the tech community] is," Klugman says. "We love surprising them. And we'll keep doing it."
The town is hoping Heins has a few surprises of his own in store.
After RIM released its disastrous quarterly earnings, thousands of customers and partners emailed RIM employees with words of "support and loyalty," he wrote in his recent op-ed.
"It reminded me just how much opportunity and promise there is within RIM, and how much of what makes BlackBerry special stems from our status as a small-town Canadian company," Heins said. "We do not believe RIM is a company at the end."
Correction: An earlier version of this story incorrectly reported Kitchener's population; it is 220,000. The Kitchener-Waterloo metro area has a population of 450,000.