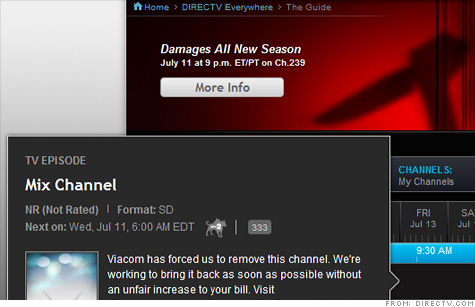 DirecTV's online channel guide tells customers that Viacom 'forced us to remove' its channels.
NEW YORK (CNNMoney) -- Millions of kids at home for summer vacation will have to forgo their daily dose of "SpongeBob SquarePants."
DirecTV (DTV, Fortune 500) customers lost access to 19 channels owned by Viacom (VIA), including Nickelodeon, MTV and Comedy Central, at around midnight Tuesday. The two companies could not reach an agreement on subscriber fees before their seven-year deal expired.
Viacom is seeking a 30% increase, or $1 billion more than its previous deal, DirecTV said in a statement. Viacom countered that its proposed increase totals "a couple of pennies per day per subscriber."
Disputes between media companies and cable or satellite TV providers have become increasingly common, but this one is hitting an especially wide audience.
With 20 million subscribers, DirecTV is the country's second-largest television service provider, behind only Comcast (CMCSA). DirecTV customers make up nearly 20% of all U.S. cable and satellite subscribers, according to SNL Kagan.
The blacked-out content is popular as well. In addition to SpongeBob, Viacom owns the rights to many other big-name shows, including "The Daily Show" and "Jersey Shore."
Yet DirecTV notes that Viacom is asking for a large increase at a time when its ratings are sinking.
"We have absolutely no problem compensating Viacom fairly," Derek Chang, DirecTV executive vice president of content, said in a written statement. "[But] the ratings for many of their main networks have plummeted and much of Viacom's programming can be seen for free online."
Viacom maintains that the proposed increase would bring DirecTV's rates up to today's market prices -- though the satellite company makes up a fifth of Viacom's audience, the previous deal with DirecTV accounted for just 5% of the media giant's subscriber revenue, Viacom said.
"We proposed a fair deal," the company said in a statement. "However, DirecTV refused to engage in meaningful conversation."
Both sides have taken the fight public, launching websites like directvpromise.com and whendirectvdrops.com and publishing full-page newspaper ads with Stephen Colbert and John Stewart standing below the all-caps banner: "What'll they take next...freedom?"
The debate headed over to Twitter, as DirecTV promoted hashtags like #DIRECTVhasmyback and Viacom urged its followers to call the TV provider.
On directvpromise.com, DirecTV pointed visitors to websites in which they could watch Viacom programming online. By Wednesday afternoon, however, full episodes of a number of popular Viacom shows like "The Colbert Report" and "Jersey Shore" were unavailable for free on their official websites.
"We're sorry, this video isn't currently available but will be again soon," read a message in place of a "Jersey Shore" episode on mtv.com.
DirecTV wasted no time in drawing attention to the situation.
"Viacom is now not only holding DIRECTV customers hostage, but all online viewers as well," the company said in a statement.
Viacom representatives could not be reached for comment Wednesday evening.
Celebrities were among those voicing their opinions on the battle. Reality TV star Khloé Kardashian tweeted "SpongeBob I will miss you!" while comedian Daniel Tosh sent out this tweet: "thanks everybody and lets all pray this Viacom/directv beef gets squared by next week."
Viacom owns eight of the top 30 cable networks, according to Nomura Securities. Nickelodeon, Viacom's children's programming network, is the country's most-watched cable channel.
This clash is one of several recent battles between pay-TV distributors and programming suppliers.
Earlier this month, Dish Network dropped AMC Networks. Dish (DISH, Fortune 500) reaches about 14 million homes. The standoff remains unresolved.