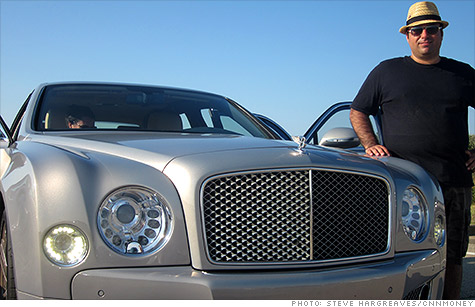 The $350,000 Bentley Mulsanne is a car-lover's dream. Driving it in New York City traffic isn't.
NEW YORK (CNNMoney) -- The $350,000 Bentley Mulsanne is an amazingly luxurious car, where every detail to ensure its passenger's comfort has been meticulously attended to. But after my weekend driving it, I was happy to return it.
See, I live in New York City where traffic is a dystopian nightmare. Surviving it in a car that costs as much as a decent home is stressful.
Don't misunderstand me. I loved the Mulsanne. As Bentley's flagship automobile, it's arguably the most luxurious car on four wheels. Getting the chance to drive it was a dream come true. I could barely contain my giddiness when it was delivered to my office on 58th Street.
You see, I don't ordinarily do this sort of thing. I mean, as an autos editor here, I've spent time driving many new models, but nothing like this. We have others here who do car reviews on a regular basis. They've become inured to fighting for lane space, pitting expensive hand-formed European fenders against those of dented 12-year-old Mazdas and FedEx trucks.
For me, as I pulled away from the curb of 58th Street and Columbus Circle, that initial giddiness quickly became tinged with fear. Sure, Bentley has the car insured. If only it had also provided a force-field around it.
Midtown Manhattan on a summer Friday is a hot, crowded beehive of rushing-to-get-home commuters and yellow cabs whose drivers seem to have learned to drive on the Coney Island bumper cars.
Then there's New York City's ever-present parking anxiety, which is multiplied exponentially in this car. Is it OK to park on the street if I'm just popping into a restaurant for a quick bite? Probably not, it depends on the neighborhood. Better to leave it at home.
There's no way I'd park this car on the street overnight in my uptown Manhattan neighborhood, either. Fortunately, the garage near my apartment is safe, completely legit and staffed by professionals. But despite that, I still felt like Cameron from Ferris Bueller's Day Off when he dropped off his father's Ferrari.
"You guys got nothing to worry about," says the attendant. "I'm a professional." (Cut to airborne Ferrari.)
There was also a tinge of guilt mixed in. Some friends brought up the morality of anyone paying so much for a car.
It's true that $350,000 could, for example, provide full college tuition for a deserving student, but the Mulsanne is also what one buddy termed "an aspirational product," something that motivates people to become rich. That motivates them to start businesses, hire employees, grow the economy and so on. If there's no Bentley at the end of it all, why bother?
I agree with all of that. But, more importantly, I believe people are free to spend their own money however they see fit, as long as it's legal.
And, for those who can afford it, Bentley -- by paying the closest attention to every luxurious detail -- has built a car that provides its owners with everything they could desire.
The leather-wrapped steering wheel was painstakingly hand-stitched, taking about 12 hours to sew. The ventilated seats are the supplest leather and keep everyone's derriere cool even on hot summer drives. They even give massages.
Just about everything is wrapped in rich, buttery, fragrant leather. What isn't wrapped in leather is covered in meticulously hand-inlaid wood veneer, carefully matched so the wood grains are the same on either side of the vehicle.
The V8 engine is powerful and moves the behemoth like a gazelle. The paint job on my car was a spectacular silver that seemed to change to the palest blue in the right light. Bentley doesn't use robots to paint, either. Each car is hand painted.
Driving the Bentley wasn't all quivering Woody Allenesque fear and anxiety, to be sure.
Once I got used to the car (and to the idea of me in the car), I began to feel like I ruled the world. Seeing the reaction of pedestrians was fun, and even more gratifying was the looks on the faces of $100,000 Mercedes-owners when they realized they weren't the kings of the road. That really got to my head.
And for all the agita I may have felt driving in the city, once I got the Mulsanne on the highway and out of Manhattan all my fears of crazed cabbies careening into me melted away, subsumed by my opulent ride, and thoughts of how much I loved life right at that moment.