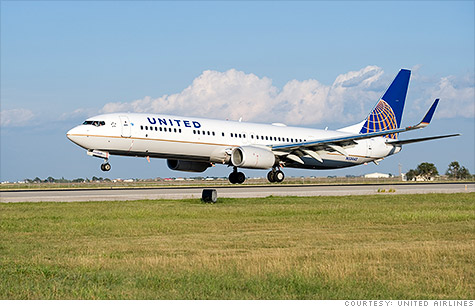 United Airlines placed an order for 150 Boeing 737 jets, worth $14.7 billion.
NEW YORK (CNNMoney) -- United Airlines on Thursday announced an order for 150 Boeing 737 jets, planes worth $14.7 billion at list prices.
The dea, announced in Chicago, the corporate home for both companies, is for 100 of the 737 MAX 9, as well as 50 of the 737-900ER extended range jets. The airline will take delivery of the jets between 2013 and 2022. The deal also includes an undisclosed number of options for additional aircraft.
Negotiations on the deal took about a year, said Jeff Smisek, CEO of United parent United Continental Holdings. He said the new jets will be more reliable and far more efficient, cutting fuel consumption by about 15% compared to the aircraft they replace.
Boeing being the sole supplier of the order is a victory for the aircraft maker in its competition with European rival Airbus. When American Airlines ordered 200 of the 737 jets from Boeing two years ago, it also ordered an additional 260 A320 aircraft from Airbus.
Smisek said that United had talked to both Airbus and Boeing before deciding to go only with Boeing on this order, its first since the 2010 merger of United and Continental.
The order is the largest for Boeing since the record $22 billion sale of 230 of the various 737 models to Lion Air, the largest airline in Indonesia, in November 2011.
The 737 MAX 9 will replace some A320 Airbus jets in the United fleet, but Smisek said that United has about 152 Airbus jets in its fleet and orders for 25 more, so "we'll have Airbus for a long time." The extended range 737's will be used to replace older, less efficient Boeing aircraft.
Even though the order was announced in Chicago, it will be counted in Boeing's sales total at the Farnborough air show taking place outside of London. The company announced orders for 98 other 737 jets from Air Lease Corp. (AL) and Virgin Australia.
There were also commitments for another 145 of the jets from GE Capital Aviation Services, the aircraft leasing unit of General Electric (GE, Fortune 500), and from overseas leasing companies ALAFCO and Avalon.
Boeing said the value of all the orders and commitments since the start of the air show stands at $35.6 billion, although that does not include the undisclosed value of the Virgin Australia deal.
By contrast, Airbus said it won about $16.9 billion worth of business for a total of 115 aircraft during the show.
Shares of Airbus parent European Aeronautic Defence and Space Co. (EADSY) fell 1.2% in trading Thursday, while shares of Boeing (BA, Fortune 500), a Dow Jones industrial average component, slipped 0.5%, which was still better than the larger declines in blue chip indexes.
Shares of United Continental (UAL, Fortune 500) fell 5%.