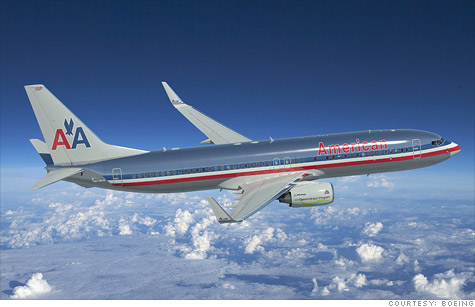 American Airlines plans to lease 460 new planes from Boeing and Airbus.
NEW YORK (CNNMoney) -- American Airlines announced a plan Wednesday to replace one of the largest commercial airline fleets, with hundreds of new leased airplanes from Boeing and Airbus.
AMR Corp, the parent company for American Airlines, said it ordered 460 "narrow body" single-aisle jets from the two manufacturers, calling it the largest commercial aircraft order in history.
The airline said this includes 200 jets of the 737 class from Boeing Co., with options to obtain an additional 100 aircraft of the 737 class.
"The increased production of 737s likely will require hundreds of new workers at our Renton factory [in Washington]," said Boeing spokesman Marc Birtel.
Boeing's (BA, Fortune 500) stock price jumped more than 3% on the news and AMR's (AMR, Fortune 500) stock moved up more than 1%.
AMR also said it would acquire 260 A320 aircraft from Airbus, with an option to acquire 365 more.
"We'll have the youngest fleet among our U.S. peers within five years as a result of this deal," said AMR president Tom Horton told CNN International.
AMR said it "expects to create [the] youngest, most fuel-efficient fleet among U.S. industry peers in approximately five years."
As part of the deal, America said the manufacturers are providing $13 billion in "committed financing" through lease transactions. The retail value of each plane ranges from $80 million to $85 million, according to American.
At the same time, AMR said it plans to spin off its commuter airline subsidiary, American Eagle, as a separate, independent company. AMR also said it would consider selling American Eagle, but would not provide a timeframe as to when this might happen.
Also, AMR reported a net loss of $286 million for the second quarter, which it blamed partly on a 31% year-over-year increase in fuel costs, resulting in additional expenses of $524 million.
AMR said the new aircraft order will reform its fleet with more fuel-efficient planes.
"This new fleet will dramatically improve our fuel and operating costs, while enhancing our financial flexibility," said AMR Chief Executive Gerard Arpey.
Boeing said the new 737s are 5% more fuel efficient than the older generation of this class of airplanes, built in the 1990s.
Joe Schwieterman, transportation professor at DePaul University in Chicago, said the new order "breaks a log jam in aircraft orders. We knew this was coming, but this is bigger than we thought."
He added that the purchase was inevitable, considering the aging state of AMR's fleet.
"They just can't afford to keep flying with these older planes," he said.
The airline industry, led by AMR, Delta Air Lines (DAL, Fortune 500) and the recently merged United Continental (UAL, Fortune 500), has been reducing capacity and striving toward greater fuel efficiency since fuel prices spiked in 2008.
--CNN's Maggie Lake and CNNRadio's Matt Cherry contributed to this report