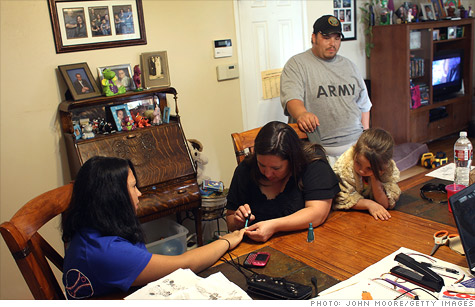 NEW YORK (CNNMoney) -- Young returning veterans claim one of the highest unemployment rates in the nation, but even those who do find work are having a hard time affording housing, a recent study finds.
Even though the government offers training programs and other assistance to returning veterans to help them re-enter the workplace, many of the jobs they're landing don't pay enough to cover the cost of buying a median-priced home, or in some instances, the average rent on a one-bedroom apartment, according to a report from the Center for Housing Policy.
"Despite record affordability, a lot of occupations you find veterans working in don't pay enough to afford a home," said Jeffrey Lubell, the organization's executive director.
The report focused on the first-quarter incomes of five occupations that returning veterans are commonly trained for after they return from deployment, including carpenters, dental assistants, electricians, firefighters and truck drivers. It then assessed the gap between wages for these jobs and housing costs for both rental and owned properties in more than 200 metro areas to determine whether an area was affordable for that particular profession.
The report found that even though falling home prices and historically-low mortgage rates have made home buying easier for many people, only electricians earned enough to afford a median-priced home in a majority of the markets.
More troubling was that the wages used to judge affordability were for the average worker in a field who had a few years of experience under their belts. For newcomers, as returning veterans often are, incomes are usually less than average until they gain experience.
"If they can't afford to buy now, what will they do two or three years from now, when home prices recover?," said Lubell.
Veterans may also have some issues that can make finding or retaining employment difficult, like medical disabilities or post-traumatic stress disorder, said Laura Williams, a research associate who co-authored the report.
In addition, many enlisted while they were still in high school or immediately after graduation. "Many vets have no experience looking for jobs," said Williams.
All of these factors have helped lead to a sky-high unemployment rate of 30% among 18-24 year old veterans.
When they do find a job, the wages they receive can be very modest. Long-haul truckers, for example, can earn anywhere from $31,000 to $47,000, according to the report. With those wages, truckers can only afford to buy a home in 38% of the 200 markets the group studied. While renting is a better option, it's still out of reach in about 12% of the markets.
Dental assistants fared even worse. With incomes ranging between $27,000 to $40,000, they could only afford to buy the median-priced home in 22% of markets and couldn't afford the rent on a one-bedroom apartment in a quarter of the markets.
Electricians, on the other hand, could afford median homes in 72% of the markets on their salaries, which ranged from $40,000 to $60,000, and rents in more than 90% of the markets.
For firefighters, 51% of markets were affordable to buy a home in and for carpenters, 58% of them were. Rents were affordable in almost all of the markets for both professions.
Even in areas where homes are affordable, vets may still face hurdles to homeownership, the report said. The report assumed a 10% down payment, but many lenders require 20% down nowadays. And saving up for that down payment can be difficult on such modest salaries. In addition, tightened lending standards can make it difficult to qualify for a mortgage.
"If vets can't afford decent housing, we've really missed the boat," said Lubell.