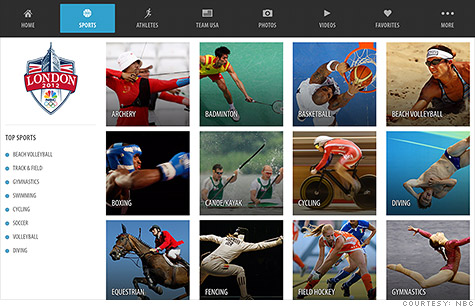 The NBC Olympics Live Extra app will stream all 32 sports, every single competition and all 302 medal events.
NEW YORK (CNNMoney) -- NBC launched a free Olympics app on Thursday that will let users stream every event in the Games live from their mobile devices -- as long as they're pay-TV subscribers.
The "NBC Olympics Live Extra" app will let users watch more than 3,500 hours of live events on tablets and smartphones. But only customers who have a cable or satellite subscription will get full access -- and the app is available only on Apple devices and a "select" list of Android phones and tablets.
A companion app, called simply "NBC Olympics," features additional content like athlete interviews and bios. The two apps are interconnected, so users can launch one through the other.
It's a sign of the sea change in how users consume content.
The pair of mobile apps are part of NBC's far-reaching plan to roll out the Olympics on a variety of media platforms. The network had already announced that the Games will be live-streamed on NBCOlympics.com and that extra content will be available on Facebook.
Until the Games begin on July 27, users will be able to use the Live Extra app to view schedules and customize their profiles by choosing certain sports as "favorites."
The apps went live Thursday in the Apple (AAPL, Fortune 500) App Store and Google (GOOG, Fortune 500) Play Store for Android. There are no current plans to make apps for Windows or BlackBerry devices, according to Adobe (ADBE), which worked with NBC to develop the apps.
Owners of Amazon's (AMZN, Fortune 500) Kindle Fire tablet will also be left out in the cold. Only Android devices that use Google's Play Store will be able to get the apps, Adobe said.
NBC and its partners say they're braced for a traffic firehose.
"Since this has never been done, it's a little hard to predict a certain number" of viewers, said Danny Winokur, Adobe's VP of interactive development. "For major events like opening and closing ceremonies, you plan for that peak and build out from there."
NBC's last big streaming event, the Super Bowl, didn't go so well.
NBC crowed to outlets like the New York Times that the 2.1 million livestreams set a record for the Internet's most-watched single sports game. Users, on the other hand, complained in droves about their Super Bowl streams. Streamingmedia.com reported blurry graphics, choppiness and even a time delay.
NBC has an even bigger undertaking with its Web livestream and the Live Extra app: Both will stream all 32 Olympic sports, every single competition and all 302 medal events.
During live events, app users can switch camera views to watch from different angles. They can also toggle between different events happening at the same time or record events to watch later. The app lets users set reminders for events and share video clips via Facebook (FB) and Twitter.
The Olympics will be a trial-by-fire test of a streaming platform that was pulled together fairly quickly.
"The project kicked off about six months ago, and it was a tremendous effort," Winokur said. "You need all of these different layers of technology to put together the user experience. It's a huge undertaking."