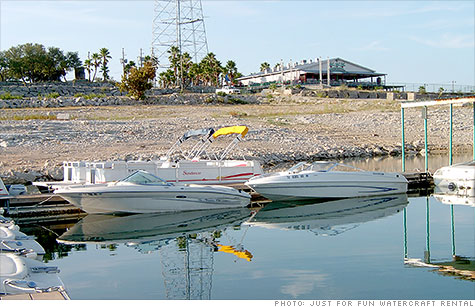 The receding shoreline in Austin's Lake Travis is hurting the lake-based boat rental business of Just for Fun Watercraft Rental.
NEW YORK (CNNMoney) -- Farmers, boating companies and restaurants are among the growing number of small businesses reeling from the worst drought to hit the United States in 12 years.
Authorities have already declared more than 1,000 counties in 26 states as drought natural disaster areas.
Austin, Texas, is one of them. The water level in Austin's popular Lake Travis is about 45-feet below full, said Pat Roth, operations director with Just For Fun Watercraft rental, a 50-employee business which rents house boats, speed boats and jet skis to use on the lake.
Word has spread quickly as far as Houston about Lake Travis' falling water table. And it's hurting business, said Roth.
"We had a booth at the annual boat show in Houston last month. We were trying to hand out information about our boats but people were waving us off saying 'Y'all don't have any water in that lake,'" he said.
So the company this year canceled its Fourth of July fireworks over the lake. "It was unfortunate. That's a great event for us. Lots of people come out and rent boats for the night," he said.
It's déjà vu for Roth. Just for Fun suffered sluggish business because of a drought last year too. "We survived that but here we are again," he said.
Business is down 30% to 40% so far but the company hasn't applied for a disaster loan, he said. They're still hoping things will turn around.
"It's silly. The lake is over 600 feet deep. If it's down 45 feet from full, that's not much but people get nervous and don't want to take a boat out."
The company's owners also own a restaurant by the lake, Carlos 'n Charlie's, that benefits from the boaters, said Roth.
"The restaurant is on a hill. you can drive your boat over, park it and climb up to it," Roth said. But the lake's receding shoreline isn't allowing boats to get close enough to park. "It's hurting business over there, too," he said.
While a federal declaration signals the growing seriousness of the situation, there is a silver lining for area small businesses affected.
Once a region is declared a disaster area by the government, it allows federal agencies such as the U.S. Department of Agriculture and the Small Business Administration to then offer loans to affected small businesses.
The USDA offers loans to agricultural businesses while the SBA disaster loans are for non-farm businesses.
The SBA gives businesses a nine-month window to apply for its disaster loans.
Since the loans are received, assessed and approved on a rolling basis, the agency isn't yet able to say how many requests it has received as a result of this year's drought, said Carol Chestang, spokeswoman for the SBA.
But she said the SBA approved about $9 million in drought disaster loans to businesses in the Midwest last year.
A spokesperson for the USDA declined to say how many drought-related loan requests were approved in its current fiscal year which runs through September.
However, the spokesperson said the agency so far has approved a 279 disaster loans, that also include drought-related loans, totaling $28.5 million.
Calvert County, Md., is still hoping to get designated as a drought-affected natural disaster area soon.
"Right now we're also praying for rain," said Buddy Hance, Maryland's Secretary of Agriculture, who is a fourth-generation farmer himself.
Located one hour south of Washington, D.C., Calvert County is a community of 92,000 where corn, soybean and wheat farming have historically been dominant industries. The area also has a few tobacco farms.
This is the third year in a row that farmers there are dealing with a significant drought and lower yields, said Hance.
"Hopefully the farmers have insurance that will cover some of the lost revenue, but it may not cover everything," he said.
And it's not just these small businesses taking a direct hit from lost crop. Hance said the county, too, is bracing for the trickle down effect to the local economy.
"If farmers have less money to take home, it affects how they spend their money elsewhere," he said. "They will think twice about buying a car, or a house, or spending in stores."
On his family farm, Hance grows corn, soybean and wheat. "Corn generally doesn't recover well from droughts. That's a problem for corn farmers," he said.
Parched tobacco and soybean crops have a better shot at recovery if the area gets some rain, soon.
But Calvert County wheat farmers did have a bumper harvest in June, said Hance.
"The June crop was excellent. And wheat prices are very high right now," said Hance. "We're hoping this could help out farmers financially a little bit in the meantime."
Is your business being hurt by the drought? Email Parija.Bhatnagar@turner.com and you could be featured in a future CNNMoney story.