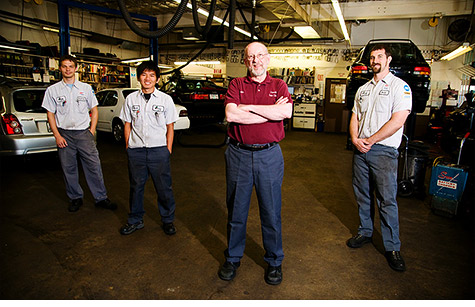 For Jim Houser, who owns a 29-year-old auto repair business in Portland, Ore., the multi-billion dollar swipe fee settlement between Visa and MasterCard isn't that big of a deal.
NEW YORK (CNNMoney) -- That Visa, MasterCard and major banks agreed to a $7.2 billion settlement in a credit card processing fee dispute does not have your friendly neighborhood merchant jumping for joy.
In the settlement, which requires a judge's approval, about 7 million merchants will get paid for damages stemming from the alleged conspiracy to fix the processing -- or "swipe" -- fees. They'll also get a reduction in the fees, but only for eight months.
While small merchants are relieved to be getting something from Visa (V, Fortune 500) and MasterCard (MA, Fortune 500), the settlement is not seen as anything resembling a windfall.
"It's a step forward, but not where we need to be," said Molly Brogan, spokeswoman for the National Small Business Association, which represents 65,000 small businesses nationwide.
Industry experts say the average credit card fee merchants pay banks when a customer buys with plastic is 2% to 3% of the total value of the purchase. The ideal scenario, she said, is one in which the swipe fees that merchants pay are equal to -- and not more than -- the actual cost of processing credit and debit card transactions.
Another aspect of the settlement met with little enthusiasm is that banks will also allow merchants to add a surcharge to a bill if their customers decide to pay with a credit card.
"I don't think this is a big deal for small businesses," said Seth Broman, vice president of business development with Merchant Cash and Capital, which provides alternative financing to small businesses.
Most business owners, he said, already assume the cost of processing a credit card -- such as for labor, rent and merchandise -- into the prices customers pay. So Broman isn't sure how many small businesses will now want to openly advertise adding a surcharge to their plastic transactions -- publicity-wise, it might not be the shrewdest move for a small business.
"As we have transitioned into a cashless society, a smarter competitor to a restaurant charging a surcharge is one that advertises it doesn't charge a surcharge," he said.
Jim Houser, who owns a 29-year-old auto repair business in Portland, Ore., agreed with Broman's assessment.
When Houser read about the settlement, he thought he was getting a rebate from the bank. "But it looks like I'm just getting a temporary break in my fees," he said.
About 85% of his customers pay with a credit card, but Houser still won't add a surcharge to their bill to help pay for his own credit card processing fees, which totaled $19,000 in 2011.
"If I was in a non-competitive business I would do it," he said. "But I'm not. We have a lot of auto repair businesses around us. I don't want to lose my customers."
Besides being a bad competitive move, it's also a bad business move overall in his state.
Since Oregon has no sales tax, he said consumers in the state aren't used to paying anything extra at checkout. "Adding a surcharge definitely won't work with my customers," he said.