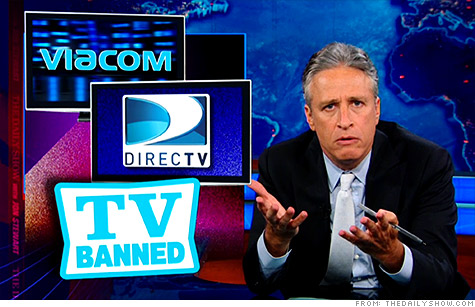 Jon Stewart took potshots at both Viacom and DirecTV in his Monday night episode of "The Daily Show."
NEW YORK (CNNMoney) -- In its ongoing game of chicken with DirecTV, Viacom just swerved. The company on Tuesday restored the online streams of full episodes of two of its most popular shows, Comedy Central's "The Colbert Report" and "The Daily Show."
Viacom (VIAB, Fortune 500) made the move right after the shows returned from a two-week vacation hiatus. The maneuver gives all online viewers, including DirecTV (DTV, Fortune 500) customers, a free way to watch the shows' latest episodes.
"We brought 'The Daily Show' and Colbert back online to coincide with their return with new episodes," a Viacom spokesman said.
He declined to comment about the online fate of other Viacom shows.
Shows such as MTV's "Teen Mom" remain unavailable on Viacom's websites, where the company typically runs ad-supported full-episode streams. Viacom yanked them offline last week after DirecTV suggested that its customers could simply watch Viacom's shows online. The shows are still available through third-party providers like Hulu and Amazon (AMZN, Fortune 500).
Viacom is locked in a tense standoff with DirecTV, whose 20 million nationwide customers have been cut off from Viacom programming since last Tuesday, when the companies' seven-year contract expired. The two sides are battling over the hefty increase Viacom is seeking in the affiliate fees DirecTV pays to carry Viacom's 17 channels, which include Comedy Central, Nickelodeon and MTV.
Both companies are treating the issue like a holy war, staging intense social media and advertising campaigns urging their customers to speak out.
Jon Stewart took a few pointed shots at those tactics on Monday night's "Daily Show" episode.
"Viacom, DirecTV, what are you doing here?" Stewart asked. "You've got ad campaigns blaming each other for taking the shows away, telling people to rise up and demand it like it's some kind of basic cable Arab Spring."
His scathing follow-up: "I've got news for you. It's not. None of this matters. None of this is indispensible."
(Irony alert: Watch that clip on the Daily Show's website and the ad roll preceding it is often one of Viacom's call-to-arms spots. "We're doomed!" SpongeBob wails, while a banner at the bottom of the site urges DirecTV customers to "SWITCH PROVIDERS TODAY!")
Stewart also criticized Viacom's decision to yank many of its online streams.
"You're pulling the shows from the Internet? Viacom, what are you, China?" he quipped.
What does Viacom say about all this?
Stewart wasted "no time in weighing in on DirecTV's ongoing blackout of Viacom channels," the company said. "'The Daily Show' continues to exercise the creative and editorial freedom that makes it consistently great."