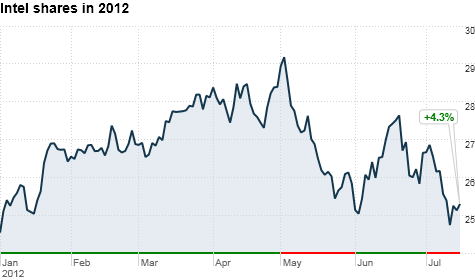 Click the chart for more info on Intel shares.
NEW YORK (CNNMoney) -- Mighty Intel is weathering the prolonged PC sales funk -- so far.
The chipmaker's revenue rose about 4% compared to last year, reaching $13.5 billion in the quarter that ended June 30, the company said Tuesday. But Intel warned that growth will be slower than previously anticipated this quarter, thanks to the "challenging macroeconomic environment."
Intel's earnings hit $3 billion in the second quarter, or 57 cents per share, down slightly versus last year but ahead of analyst forecasts of 52 cents per share.
Looking ahead, the company said it expects sales in the current quarter to come in around $14.3 billion, below analysts' forecasts of $14.6 billion. Shares of Intel (INTC, Fortune 500) were flat afterhours.
The results come against a backdrop of dreadful PC sales.
Worldwide shipments of PCs fell by 0.1% in the second quarter, according to separate surveys by Gartner and IDC. PC shipments in the United States fell by nearly 11%, IDC said, though Gartner had the figure closer to a 6% drop -- either way a precipitous decline from a year ago.
Demand for PCs has been slumping in the United States for several years. The really bad news for the sector is that the Chinese market is beginning to cool off. China had been a strong source of PC demand, as many consumers there were buying a computer for the first time, but a weakening global economy is stunting growth.
Those problems are having a profound impact on AMD (AMD, Fortune 500), Intel's chief PC chipmaking rival. AMD warned last week that its second-quarter results would be much weaker than expected, primarily because of poor PC sales. The company now expects sales to fall by 11%, compared to its previous forecast of a 3% increase.
Intel, a much larger company, isn't as easily rattled by shifting PC sales trends. It has a broader product assortment and more sway over its partners than AMD.
Intel enjoyed a roughly 4% increase in PC chip sales last quarter compared to last year.
The first smartphones with Intel chips inside began hit store shelves this past quarter, though these remain a miniscule portion of the overall market.
Also on sale now are Intel's long-awaited 22-nanometer "Core" chips, which the company expects to provide a big boost to the ultrabook market. Intel believes ultrabooks will make up 40% of laptop sales by the year's end, although sales so far have been lackluster.
-CNNMoney's James O'Toole contributed reporting.