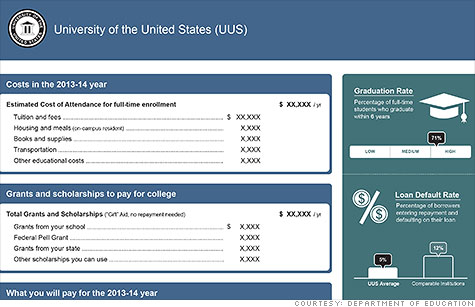 The government unveiled the final version of its "financial aid shopping sheet" pictured above.
NEW YORK (CNNMoney) -- A new "financial aid shopping sheet" will show college applicants exactly how much money they will be forking over for their education and help them compare financial aid offers from the different schools they're considering.
The White House, Department of Education and the Consumer Financial Protection Bureau unveiled the final version of their Financial Aid Shopping Sheet on Tuesday, after reviewing public comments on a draft they presented last year.
Colleges can adopt the form voluntarily, and U.S. Secretary of Education Arne Duncan will publish an open letter to U.S. colleges on Tuesday, encouraging them to adopt the new form.
Duncan said the sheet has been met with enthusiasm from schools so far, with at least 10 major undergraduate institutions -- representing about 1.5 million students -- already pledging to adopt the form, including Arizona State University, Syracuse University and Vassar College.
Students should be wary of schools that choose not to adopt the form, he said. "If a college isn't willing to be transparent, the question you have to ask is 'why?'," Duncan said on a call with reporters.
The "shopping sheet" is meant to replace the current financial aid award letters that colleges send to students. The White House said in a statement about the new form that existing financial aid letters can be "confusing, lacking clear distinctions between grants and loans, as well as information about post-graduate outcomes associated with the institution."
The finalized form will be one page, and will include personalized information about how much one year of school will cost, the loan options available to that applicant, the differences between grants and scholarships and the net cost of college when grants and scholarships are taken into consideration.
It will also give applicants an idea of how hard it will be to repay that amount upon graduation, providing the default rates for that particular school and estimated monthly payments a student will be required to make once they graduate.
"Too often, students and families face the daunting task of deciding where to enroll, whether to write a check, or whether to sign for a student loan, without a clear explanation of what the costs mean, or how these costs compare to other colleges they are considering," the White House said. "As a result, too many students leave college with debt that they didn't understand at the time that they entered school."
As more schools adopt the sheet, it will be easier for students to comparison shop before making a decision.
Many students receiving military benefits will also be seeing these new forms show up in their mailboxes next fall. In April, President Obama signed an executive order requiring schools accepting Tuition Assistance and G.I. Bill funding to provide the sheet to military financial aid recipients in the 2013-2014 school year -- representing more than 1,500 institutions.