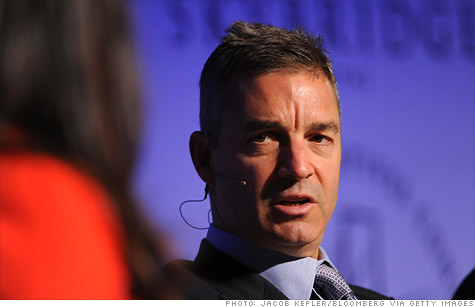 Third Point CEO Daniel Loeb spent $38.4 million on 2.5 million additional Yahoo shares.
NEW YORK (CNNMoney) -- Third Point CEO Daniel Loeb just raised his stake in Yahoo.
The activist shareholder paid $38.4 million to buy 2.5 million additional shares of Yahoo, according to an SEC filing. He bought 1.7 million Yahoo shares at $15.82 each on Friday and more than 800,000 shares at $15.67 per share on Monday. That brings Loeb's total stake in the company to 73 million shares.
Third Point owns nearly 6% of Yahoo (YHOO, Fortune 500), making it the largest outside shareholder.
Last week, Yahoo announced former Google (GOOG, Fortune 500) exec Marissa Mayer would take the helm of the company, after ex-CEO Scott Thompson left amid a resume scandal.
Loeb, a well-known activist investor, publicly sparred with the company over Thompson's credentials; Thompson stepped down after it was learned he had padded his resume prior to taking the post.
Thompson has since been appointed CEO of online retailing outfit ShopRunner.
Third Point also campaigned to place four new directors on Yahoo's board, one of whom was Loeb. Yahoo ended up naming three of those nominees to the board: Loeb, Maeva CEO Harry Wilson and Activate CEO Michael Wolf.
In its second-quarter earnings report last week Yahoo said profits fell 4% from 2011.