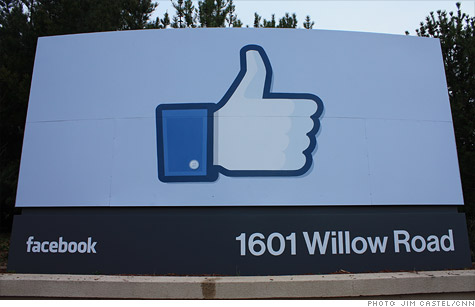 NEW YORK (CNNMoney) -- Facebook's famous "like" button may be getting a new friend: a "want" button.
Reports indicate that Facebook (FB) may be in the works of developing a "want" button as a way for users to share coveted items with their friends.
In a report released Tuesday, Piper Jaffray analyst Gene Munster notes that a "want" button "could be Facebook's first true product to directly impact commerce on the site."
"Offering a 'want' button and enabling users to tell friends and Facebook what products they want would give Facebook data closer to what Google (GOOG, Fortune 500) has when users type an explicit commerce related search query," Munster wrote.
The speculation started last month when Web developer Tom Waddington discovered the code for a disabled version of the button and published a mockup of it on his blog. Waddington wrote that Facebook clearly has "big plans for social commerce."
He added that it appears the purchases and wants a user submits will appear in a similar manner as other content on Facebook.
Facebook would not specifically discuss the chatter about a "want" button. "We're always testing new platform features. However, we have nothing new to announce," a company spokesperson said.
With Facebook's eagerly anticipated second-quarter earnings report Thursday, a segue into social commerce may help the company after its botched IPO. Investors are hoping for more details about how Facebook can diversify.
The "want" button would essentially function as a wish list, so Facebook could collect data and learn more about the types of products its users would like to purchase.
Laura Martin, an analyst at Needham & Co., said she was surprised by the rumor, but thinks that it's a good idea for the company. Martin says investors are curious to hear how the social network giant can generate more revenue from its 900 million users, and pointed out that commerce would be an important area to focus on.
Ken Sena, an analyst with Evercore Partners, also said the addition of a "want" button could "make a lot of sense" for Facebook since it would allow Facebook to show advertisers what its users actually intend to purchase.
But if Facebook were to make an announcement about this or any other new features, Munster says it would likely happen at the company's next developer's conference.
The company has yet to announce a date for its next conference but it is expected to take place sometime this fall Last year's F8 conference was held in September. At last year's conference, the company revealed a redesigned news feed and the Timeline feature for profile pages.