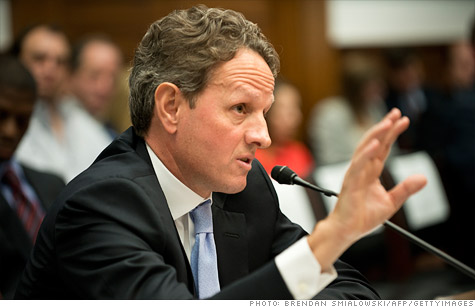 Treasury Secretary Tim Geithner defended his role at the New York Fed, which got early reports of Libor rigging.
WASHINGTON (CNNMoney) -- Treasury Secretary Tim Geithner on Wednesday defended his role, as New York Federal Reserve president in 2008, in dealing with early warnings that a key financial benchmark was being rigged.
Geithner told the House Financial Services Committee that he briefed U.S. regulators and the White House when Barclays bankers told the New York Fed that the bank was submitting false estimates to determine Libor. He said he also briefed British authorities.
"I felt we did the important and fully appropriate thing," Geithner told lawmakers. "We brought our concerns to (British regulators') attention. We felt it was really going to be on them to take responsibility for fixing this."
The Libor rate -- currently used to calculate trillions of dollars in consumer and business loans around the world -- has been in the spotlight since revelations that Barclays (BCS) manipulated Libor to benefit trades and its own bottom line.
Libor is used to set interest rates on mortgages, loans and swaps contracts worldwide.
Barclays agreed last month to pay about $450 million to settle manipulation charges. The scandal has weakened trust that banks are setting rates on loans fairly and honestly.
Geithner pointed out that the British Banking Association, the group charged with overseeing the process of setting Libor, did undertake a few reforms in response to his suggestions.
But, he added, "obviously, we don't think they went far enough."
Financial Services chairman Spencer Bachus, an Alabama Republican, grilled Geithner about why the New York Fed, under his watch, used Libor to help set bailout terms during the financial crisis -- even though the bank knew it was being manipulated.
"We were in the position of investors all around the world," Geithner said. "And we did what everybody else did, which is to use the best rate available at the time."
He added that investigators are looking back on the use of Libor during the financial crisis and "to what extent the rate was moved up, or moved down, or actually affected in any way."