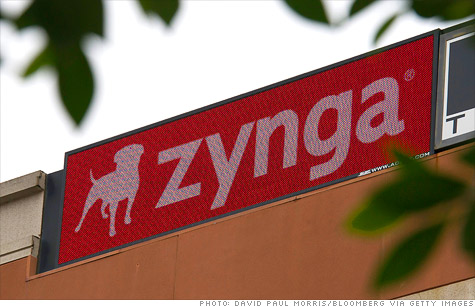 NEW YORK (CNNMoney) -- If you're wondering how Facebook is going to do ahead of their first quarterly earnings report since entering the public market, the news from its close ally Zynga isn't a promising sign.
Zynga's second quarter results missed analysts' expectations and the company cut its outlook. That news pushed shares of Zynga (ZNGA), which has a lot riding on the continued success of Facebook, down more than 35% in after hours trading. Shares of Facebook (FB) fell 8% following the report.
Zynga, the casual gaming pioneer best known for FarmVille and its other -Ville franchises, reported sales of $332 million for the quarter ended June 30. That fell short of the $344 million in sales that analysts polled by Thomson Reuters were predicting.
The company reported a net loss of $22.8 million. But excluding stock compensation costs, Zynga reported a profit of 1 cent per share, lower than the 6 cents a share analysts were expecting.
Zynga also indicated that users aren't shelling out as much to play games on Facebook, the platform for some of Zynga's most popular games. The company's online gaming revenue in the second quarter was down compared to the previous quarter.
Zynga is part of Facebook's payments business -- which accounts for 18% of Facebook's revenue. Buy a cow on FarmVille and Facebook takes a cut.
While Facebook's biggest source of revenue stems from advertising, the payments business raked in $186 million last quarter -- an indication that a company like Zynga plays a vital role in Facebook's business and vice versa.
Zynga also lowered its outlook citing "delays in launching new games, a faster decline in existing web games due in part to a more challenging environment on the Facebook web platform, and reduced expectations for Draw Something."
Prior to its previous earnings report in March, Zynga snatched up gaming company, OMGPop, the maker of Draw Something, in an effort to widen its net.
But its an investment that has yet to pay off. On the company's earnings call, Zynga CEO Mark Pincus said the game has "underperformed versus our early expectations."