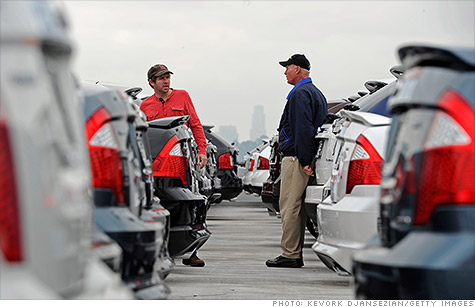 Gripes about auto dealers led the list of top 10 consumer complaints compiled by the Consumer Federation of America, followed by credit card issuers and debt relief companies.
NEW YORK (CNNMoney) -- Apartments crawling with bedbugs. Pricey phone services the customer -- senior citizens -- didn't order. A tombstone never delivered.
And, of course, auto dealers.
The Consumer Federation of America on Tuesday released its annual chronicle of the top 10 consumer complaints.
The CFA list comes from a survey of 38 consumer agencies about the kinds of complaints they received in 2011.
The consumer groups received nearly 290,000 complaints, and recovered or saved consumers almost $147 million. (Related: Fighting for consumer rights)
No. 1 Autos: Customers shopping for cars or going in for repairs were sold lemons, got into leasing and towing disputes and were shown false advertising.
The report said, for example, that nine customers in Florida were duped by a seller on Craigslist. Some of the people who paid never got their vehicles, while others got cars that barely worked or vehicles without titles.
No. 2 Credit/Debt: For the third year in a row, complaints about credit card billing and fees, along with mortgage-related fraud, predatory lending and abusive debt collection tactics, comes in at number two on the list. (Related: Online credit card complaint database debuts)
Among the abusive debt tactics the report chronicles was the story about a disabled woman in New Jersey who was harassed until she paid a fee to an ambulance service in full although she had agreed to a monthly payment plan for the service.
No. 3 Home Improvement/Construction: Consumers complained that home improvement and construction companies wouldn't finish jobs they started and performed shoddy work when they did.
One teacher in Florida paid a contractor $18,000 for an addition to her home that was never built.
No. 4 Retail Sales: Some of the top complaints when it came to retail sales included false advertising, fraud, defective merchandise, rebate issues, coupons, gift cards and gift certificates.
In the report, the CFA said there was a swell of complaints that businesses had refused to honor promotional gift certificates, or that their terms weren't clear.
No. 5 Utilities: Consumers complained about billing disputes and service problems with phone, cable, satellite, Internet, electric and gas services.
Last year, a company misrepresented land line phone services to elderly couples in Massachusetts; the result: higher fees, larger bills and changes that consumers didn't ask for. (Related: Seniors lose billions to financial abuse)
No. 6 Services: The report detailed misrepresentation in a variety of services -- things like providers who lacked required licenses or who did a lousy job.
A New Jersey resident complained that she bought a headstone for her sister's grave two years before, only to notice that it was never delivered. An investigator in the Gloucester County Consumer Protection Office found that the stone company had never been paid by the memorial company, despite the fact that the consumer paid them in full.
No. 7 Internet Sales and Landlord/Tenant: These two complaints tied for seventh place.
Consumers complained that Internet retailers didn't deliver or misrepresented online purchases.
When it came to tenant complaints, renters griped about unhealthy or unsafe conditions and landlords who didn't make repairs. The CFA said that illegal eviction tactics and deposit and rent disputes were also common.
Last year, there was an increase in the number of tenants complaining that their apartments were infested with bedbugs, and that landlords failed to respond adequately.
No. 8 Fraud: Consumers complained about a range of scams, including fake checks, bogus sweepstakes and lotteries and grant offers.
The report cited a scam investigated in Kansas, North Carolina and Minnesota in which a group promised consumers a $25,000 grant from the U.S. government if they purchased pricey books and coaching services.
No. 9 Real Estate: Real estate is new to the top 10 list this year. Complaints involved real estate fraud, retirement and assisted living facilities and timeshare sales. (Related: How to get the best customer service)
Consumers said some timeshare companies used long, high-pressure sales pitches and the lure of prizes to get them to agree to not-so-great deals.
No. 10 Household Goods and Home Solicitations: In a tie for the final spot, consumers complained about misrepresentation in both household goods and home solicitations.
Faulty furniture or appliance repairs and failure to deliver were among the complaints agencies received about household goods.
In terms of home solicitations, consumers cited telemarketers and mail solicitations that misrepresented or failed to deliver services. Also of concern were violations of do-not-call rules.