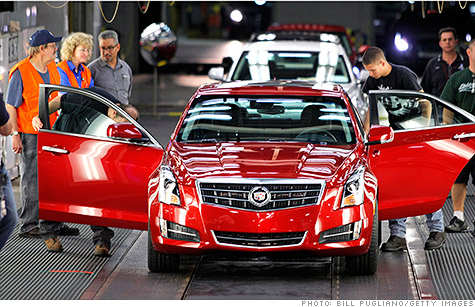 NEW YORK (CNNMoney) -- American manufacturing continued to slow in July, contracting for the second month in a row, according to a survey of purchasing managers.
The Institute for Supply Management reported Wednesday that its monthly index rose to 49.8 in July from a 49.7 reading in June. Any reading below 50 indicates contraction in the sector.
The index showed that while the sector contracted, it did so at a slightly slower rate than it did the month before.
The index came in below the expectations of economists surveyed by Briefing.com, who forecast it would rise to 50.1.
The new orders component, a forward-looking indicator, continued to contract, but the rate of contraction slowed. It rose to 48 in July from 47.9 the month before.
The ISM report came as another worrying sign following last month's surprisingly low number, which ended a 34-month growth streak. Manufacturing had been one segment in the U.S. economy that, until last month, shown consistent growth during the recovery.
But this month's report won't alleviate concerns about slowing global growth and the eurozone crisis dragging the sector down. Poor numbers out of Asia and Europe on Wednesday showed that the ripple effect from Europe has hit manufacturing across the globe.
China reported on Wednesday that growth in its once vibrant manufacturing sector slowed to a near halt in July. The National Bureau of Statistics said its index of purchasing managers' sentiment slipped to 50.1 from 50.2 in June. Just as in the United States, any reading above 50 signals growth in the manufacturing sector.
Manufacturing activity also continued to contract across the eurozone. The Markit Final Eurozone Manufacturing PMI fell to 44 in July, a more than three-year low but roughly in line with forecasts. Italy's manufacturing activity was at a three-month low, while manufacturing activity in Spain rose to a three-month high.
Economists say that while the number is disappointing, it is not at all surprising.
"The numbers don't really change the anemic picture much," said Paul Ashworth, senior U.S. economist at Capital Economics. "This shows that the manufacturing index is more exposed to the global economic slowdown, and that's no shock after the weak PMIs out of China and Europe. This is just confirming what we know."
Some respondents to ISM's survey shared their jitters about the economy going forward.
"Taking a conservative approach to spending including hiring, travel and inventory. U.S. economy seems stuck --at best --with little to no growth," said one apparel and leather manufacturer.
Investors reacted to the new U.S. manufacturing numbers, and all three indexes edged lower in the minutes after the report's release.