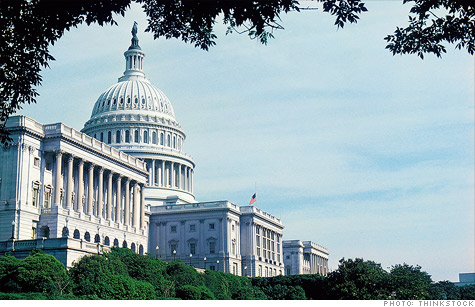 Some independent deficit hawks are calling for more stimulus in 2013.
NEW YORK (CNNMoney) -- Now is not the time for austerity.
That's a message many independent fiscal hawks are sending as Congress continues to dawdle on a deal to avert the so-called fiscal cliff.
That cliff is made up of a staggering amount of tax increases and spending cuts that would hit the economy simultaneously starting in January 2013.
Going over the cliff could reduce deficits by an unheard of $7 trillion over a decade -- a number that would go a long way to curbing growth of the country's huge federal debt.
But such sudden, widespread fiscal restraint would come at a stiff cost to the economy and even spark recession, economists say.
That's why fiscal experts say Congress should devise a smart plan to reduce deficits more gradually.
And some hawks are even invoking the S-word.
"Stimulus would help a lot," said William Gale, a scholar on federal economic policy at the Brookings Institution. "I find the whole lack of discussion about having a stimulus to be disappointing. ... Republicans don't want to acknowledge that stimulus could help. Democrats don't want to acknowledge that we need another stimulus."
The perils of the self-inflicted fiscal cliff are not the only risk facing the economy. There's also the debt crisis in Europe, the housing overhang in the United States and the uncertainty facing financial markets and institutions, said Joseph Minarik, senior vice president of the Committee for Economic Development.
"We need to get our economy on a sound footing before it again is tripped up by one of those three lingering risks," Minarik added.
Gale thinks Congress should actually go over the cliff -- including letting the Bush tax cuts expire -- so long as lawmakers simultaneously implement a temporary stimulus package consisting of a temporary payroll tax cut, temporary aid to states and more infrastructure spending.
That, he believes, would then free up both parties to have a serious discussion in 2013 about how to address medium- and long-term deficits in ways that won't upend the economy.
Even if the country weren't facing a fiscal cliff, Gale would still advocate for more stimulus. "The economy is recovering weakly and slowly. And the cost of borrowing is practically zero."
Minarik would like to see the Bush tax cuts replaced with a very large income tax rebate -- or, if lawmakers extend the Bush tax cuts, then a smaller income tax rebate. "On net we should be stimulating the economy in either event," he said.
And if Congress can't agree to postpone the sequester of across-the-board spending cuts for one year, he'd rather they be replaced with a more thoughtful selection of cuts.
Of course, not all independent deficit hawks are pushing for measures to boost growth.
"I am not in favor of extra stimulus right now. I would probably change my mind if we see a negative quarter of GDP growth," said Rudolph Penner, a former Congressional Budget Office director.
Bob Bixby, who runs the Concord Coalition, isn't pushing for more stimulus either, but wouldn't oppose it under certain conditions. "Any short-term assistance to the economy would be more credible and effective if it's paired with a long-term budget deal," Bixby said.
That squares with the view expressed by Maya MacGuineas, president of the Committee for a Responsible Federal Budget. But she would like to see specific measures earmarked in that long-term plan to pay for the stimulus over the next five to 10 years.
"The risks of excessive debt and a possible fiscal crisis are just too great to keep borrowing with no plan to bring the debt back to sustainable levels," MacGuineas said.