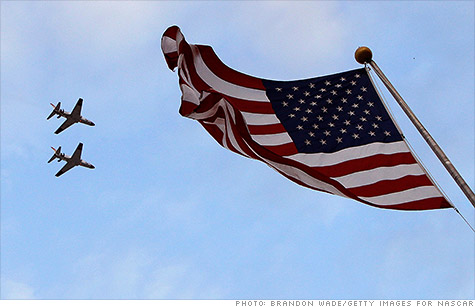 Many in the defense establishment claim automatic spending cuts would be catastrophic for defense. Lawrence Korb, a former assistant secretary of defense, says that's not so.
Lawrence J. Korb, a senior fellow at the Center for American Progress, served as assistant secretary of defense in the Reagan administration.
Across-the-board spending cuts will be the most damaging thing to hit the Defense Department since Pearl Harbor.
That is, if you believe the defense establishment.
Secretary of Defense Leon Panetta claims that so-called sequestration will have a catastrophic impact on our national security and create a hollow force.
Sens. John McCain and Lindsay Graham are sounding the alarm about the profound negative consequences to our national security and economy.
And the Aerospace Industries Association claims that sequestration would result in the loss of more than 1 million jobs.
Sequestration certainly is not a smart way to cut the defense budget. But close analysis of these claims makes it clear that they're wildly exaggerated.
If automatic reductions in defense spending go into effect, the fiscal year 2013 base (or non-war) budget will be reduced by $55 billion to $500 billion and remain at that level in real terms for the next decade. This will result in a total reduction of $500 billion over a decade from projected levels of defense spending.
But it also means the Pentagon will still be spending more in 2013 after sequestration than it did in 2006, at the height of the Iraq war, and more than we spent on average at the end of the Cold War and during the first Gulf war.
Moreover, the United States will still account for 40% of the world's military expenditures -- 70% if you combine that with what our allies spend.
These cuts come after 13 straight years of defense increases, which brought defense spending to levels not seen since World War II.
Are those hyperventilating about sequestration really claiming that we wouldn't be able to provide for national security?
As for jobs, there are at least three reasons why sequestration will have only a minimal impact in 2013.
First, the reductions are unlikely to have much impact on the hundreds of billions of dollars in existing multi-year defense contracts.
Second, in making the reductions, DOD can also tap other funds beyond its requested $550 billion base budget, in essence giving it $721 billion from which to cut next year.
For instance, it can choose to draw on its requested overseas war funding budget of $88 billion since it has items like routine personnel costs that have nothing to do with the wars. Plus, the DOD could draw from its $83 billion in unobligated balances, which is money authorized but not yet spent.
Third, sequestration will not have an impact on foreign military sales, which were over $40 billion this year and account for about 25% of the revenues of major defense companies.
DOD, in short, does not have a resource problem. It has a management problem. Its leaders did not have to enforce fiscal discipline during the gusher of defense spending between 2001 and 2010. As a result, it wasted $50 billion on weapons systems it later cancelled and has cost overruns topping $500 billion on 95 major weapons systems.
Sen. McCain himself called the acquisition process for the F-35 Joint Strike Fighter, the most expensive weapons program, a scandal and a tragedy. Frank Kendall, the Pentagon's acquisition chief, said the department was guilty of "acquisition malpractice" in managing the F-35 program.
Even those who believe defense spending should be reduced object to the "meat ax approach" of sequestration in which all items in the defense budget would be cut equally. They have a point. But there are other alternatives.
One, laid out by the Center for Strategic and Budgetary Assessments, would achieve the same level of required savings under the Budget Control Act, but implement the cuts more gradually. This would be done by reducing projected levels of inflation-adjusted spending by 2.2% a year over the next decade. To do this, however, Congress would need to amend the BCA.
But even the prospect of such a work-around, which would give Pentagon leaders more say about where and when the cuts occur, isn't enough to convince them to proactively plan for potential funding cuts, which they say would be catastrophic.
Really? This from the organization that planned for a nuclear exchange with the Soviet Union that would have destroyed civilization as we know it?
If they need a guide, they can turn to a plan by the co-chairmen of the president's Deficit Reduction Commission (Bowles-Simpson), which outlined $973 billion in cuts to defense over the next decade.
The most serious security problem facing the nation is our federal debt. Reducing defense won't solve that problem. But since defense accounts for 20% of federal expenditures and 50% of all discretionary spending, it can and should reduce be reduced to 2006 levels, sequester or no sequester.
The American people support it. And if the Pentagon's leaders can't do it, they don't deserve to be there.