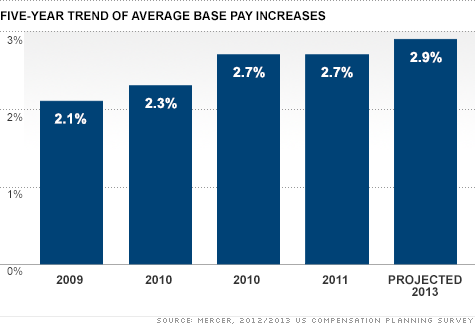 Pay raises will be slightly higher next year.
NEW YORK (CNNMoney) -- Employers plan to be a little more generous with pay raises next year -- especially when it comes to their top performers.
Almost all -- or 98% -- of the 1,500 mid-sized and large employers surveyed by consulting firm Mercer said they plan to increase salaries in 2013. On average, salaries are expected to rise by 2.9%, up from the 2.7% increases workers saw in 2012 and 2011.
The pay raises will not be across the board, however. Top performers -- which represent about 8% of the workforce -- will get a bigger slice of the compensation pie.
These superstar employees can expect an average 4.5% pay bump this year, Mercer said. Meanwhile, average workers (about 54% of the workforce) are expected to see a 2.4% pay raise and the lowest-performing employees (2% of workers) could receive as little as a 0.1% increase.
"Employers continue to recognize that in order to attract and retain top-performing employees, they're going to have to reward them in line with industry dynamics," said Catherine Hartmann, head of Mercer's compensation consulting business.
The anticipated pay raises will vary by industry as well. Cash-rich oil and gas companies are expecting to reward employees with an average increase of 4.1%, while workers in the education and healthcare sectors will see much smaller pay raises of 2.5% and 2.6%, respectively.
Fewer salary freezes, more incentives: According to the survey, 2013 will mark the third year in a row in which employers are relying less on salary cuts and freezes. Of the companies surveyed, just 1.5% expect to freeze salaries in 2013, down from 5.1% this year and 5.9% in 2011, Mercer said.
Executive-level employees should benefit the most from this trend. Last year, 8.2% of employers froze executive pay. Looking toward next year, only 1.9% of companies expect to do so.
Base pay, however, is only one part of employee pay packages. Recruiting and retaining workers often involves extra incentives, such as signing bonuses, spot cash rewards and bonuses for hitting targets or project milestones.
"[W]hile base pay is still the most important element of the employment deal, companies are continuing to offer innovative programs beyond compensation," said Hartmann.