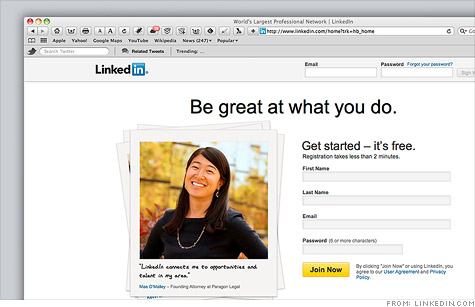 NEW YORK (CNNMoney) -- LinkedIn once again proved it's not Facebook: The business networking site reported that sales nearly doubled from a year ago, led by a huge increase in revenue for its job posting services.
Shares of LinkedIn (LNKD) rallied on the news, rising more than 4% in after-hours trading.
LinkedIn pulled in $228.2 million in revenue for the second quarter and earned 16 cents per share. Sales topped the $216 million that analysts polled by Thomson Reuters were expecting. Earnings were in line with forecasts.
The company has three different ways of making money, and revenue from all of those sectors jumped significantly over the year. Sales from job postings, which accounted for more than half of LinkedIn's total revenue, more than doubled.
Ad revenue grew 64% over the year, and paid subscription sales jumped 82%.
In another bright spot, the company raised its guidance for its full-year 2012 revenue to $915 million to $925 million. The previous range was $880 million to $900 million.
But not all of the quarter was rosy for LinkedIn. In June, hackers stole 6 million user passwords. On a post-earnings conference call, an analyst asked about the fallout.
Executives repeated that the company has "redoubled its efforts" to ensure password safety. The breach cost LinkedIn only $500,000 to $1 million for forensic work in the second quarter, they said.
The executives also talked up LinkedIn's mobile efforts. More than 15% of new registrations came from mobile last quarter, up from 10% in the previous quarter.
LinkedIn has had a much better track record since than other social media companies since going public. The stock is up nearly 45% so far this year.
Facebook (FB), whose shares fell below $20 for the first time on Thursday, is trading almost 50% below its offering price. Groupon (GRPN) and Zynga (ZNGA) have also stumbled. Both stocks are near their 52-week lows.
All of those companies are younger than LinkedIn, which was founded in 2003 and went public in May 2011. The site has 175 million members worldwide.