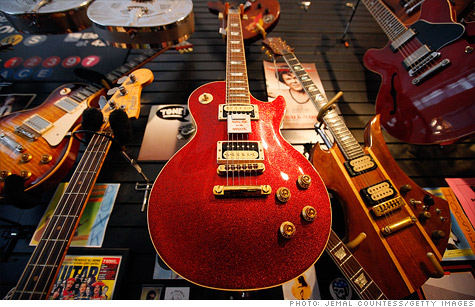 Gibson Guitar has settled with federal authorities for illegally importing ebony and rosewood from India and Madagascar.
NEW YORK (CNNMoney) -- Gibson Guitar Corp. has agreed to pay a fine for illegally importing exotic wood from Madagascar and India, the U.S. government said Monday.
Gibson will pay a $300,000 penalty to avoid criminal charges for importing ebony and rosewood in violation of the Lacey Act, which prohibits the acquisition of plant products that are protected in other countries, the Department of Justice said in a statement.
In this case, Gibson was accused of illegally importing ebony from Madagascar and India, as well as rosewood from India.
The guitar maker will also have to make a "community service payment" of $50,000 to the U.S. National Fish and Wildlife Foundation to promote conservation and development of tree species used in making musical instruments.
The company also will withdraw its claims to the $262,000 worth of exotic woods seized by federal authorities, said the Department of Justice.
The settlement stems an incident last year, when agents from the U.S. Fish and Wildlife Service raided two of Gibson's factories in Tennessee and its Nashville headquarters on Aug. 24. At the time, Gibson CEO Henry Juszkiewicz said the agents confiscated about $1 million in Indian ebony as well as guitars and electronic data.
"We felt compelled to settle as the costs of proving our case at trial would have cost millions of dollars and taken a very long time to resolve," Joskiewicz said in a statement released late Monday. This allows us to get back to the business of making guitars."
On July 19, the Wall Street Journal published an op-ed piece by Juszkiewicz that detailed the raid, which he says cost his company $2 million to $3 million in products and productivity.
He also said the importation was in compliance with the laws of India. He called the U.S. government's actions an 'overreach" and a "job killer."