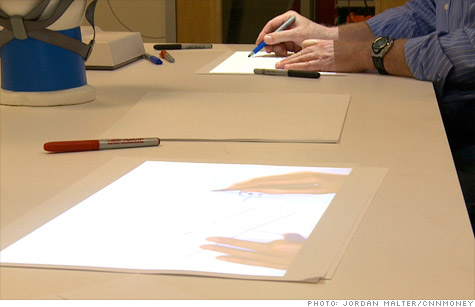 IllumiShare allows collaborators to share and edit images of physical objects in real time.
REDMOND, Wash. (CNNMoney) -- This is part 6 of CNNMoney's series looking inside Microsoft's research lab.
The Internet is really good at sending digital items around the world in a split second. Physical objects, not so much.
Absent a Star Trek-like transporter, our real-world stuff still needs to be physically moved from location to location. That means objects have been noticeably absent from the growing world of online collaboration.
To solve that problem, Microsoft (MSFT, Fortune 500) is working on a bridge between the physical and digital worlds. Called IllumiShare, it's an Internet-connected projector-camera combination that allows users to display physical objects to one another in real-time.
The IllumiShare looks like a tall desk lamp hanging over a drafting table. It works with one or more other IllumiShare devices by snapping constant images of the table's surface. It also simultaneously projects what it sees from all of the IllumiShares in a meeting.
When one user places an item under the IllumiShare camera, everyone in the meeting can see it. People from thousands of miles away can start to draw on it or place other objects in view.
That means users could play a board game like Monopoly over IllumiShare with just one game board.
It sounds simple, but it's no easy feat: When you have both an object and a projection of an object sitting in the exact same location, you would ordinarily get a double mirror effect, where the images appear to expand off until infinity.
Microsoft solved that problem by putting the smallest of hiccups in the projection -- imperceptible blips to human eyes, but enough to make the display usable.
Most experiments at Microsoft's research lab in its Redmond, Wash. headquarters are for in-house use only, but there has been such interest in IllumiShare that Microsoft is making a few dozen units to ship out to potential customers for testing.
It's still very much in the development stage, but IllumiShare appears to be much closer to a finished product than most Microsoft Research projects.