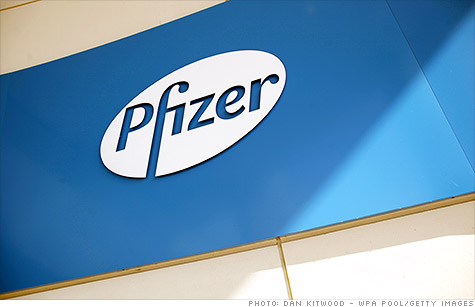 Pfizer reached settlements with the SEC and the Department of Justice.
NEW YORK (CNNMoney) -- Pharmaceutical giant Pfizer will pay $60 million to settle charges that it paid millions in bribes to foreign officials, federal authorities announced Tuesday.
Pfizer will pay roughly $45 million to the Securities and Exchange Commission to settle charges that the company, along with fellow pharmaceutical firm Wyeth, which Pfizer acquired a few years ago, violated the Foreign Corrupt Practices Act.
The SEC says staff from the companies' subsidiaries paid bribes to foreign government officials to boost sales and obtain regulatory approvals. The violations occurred in Bulgaria, China, Croatia, the Czech Republic, Italy, Kazakhstan, Russia and Serbia, the SEC said.
Pfizer also entered into a deferred prosecution agreement with the Department of Justice, agreeing to pay a $15 million penalty.
"Corrupt pay-offs to foreign officials in order to secure lucrative contracts creates an inherently uneven marketplace and puts honest companies at a disadvantage," James McJunkin of the FBI's Washington field office said in a statement.
In China, for example, Pfizer employees rewarded government doctors who prescribed large amounts of the company's drugs by inviting them to meetings with "extensive recreational and entertainment activities," the SEC said. In Croatia, the agency said, government doctors received a portion of the proceeds from Pfizer's drug sales to the doctors' own institutions.
Pfizer noted that there is no allegation that anyone at the company's corporate headquarters knew of the conduct in question, which it voluntarily reported to the government.
"The actions which led to this resolution were disappointing, but the openness and speed with which Pfizer voluntarily disclosed and addressed them reflects our true culture and the real value we place on integrity and meeting commitments," Amy Schulman, executive vice president and general counsel at Pfizer (PFE, Fortune 500), said in a statement.
The SEC said the violations date as far back as 2001, and that Pfizer initially reported them in 2004.
Shares of Pfizer were down 1.5% in mid-day trading Tuesday.
Retailing giant Wal-Mart (WMT, Fortune 500) made the news earlier this year after a New York Times report alleging that the company paid $24 million worth of bribes in Mexico to streamline construction projects. Dozens of other public companies have revealed they are facing scrutiny from regulators over possible foreign bribery violations as well.