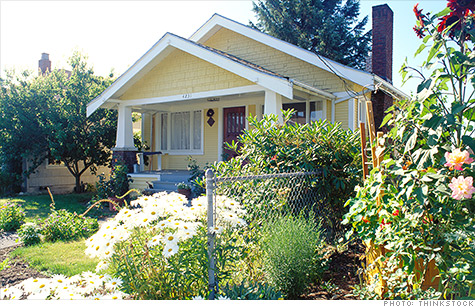 Home prices and new construction have started to pick up in recent months, suggesting the housing market may finally be starting to recover.
NEW YORK (CNNMoney) -- Could the real estate freeze finally be thawing?
After years of depressed activity, home prices and new construction have started to pick up in recent months as foreclosures have slowed, suggesting the housing market may have finally bounced off the bottom.
"It feels very much like we've hit a bottom and we're starting to come off of that bottom," Stuart Miller, CEO of homebuilder Lennar told analysts in June.
But with several previous false starts, it's still too soon to say whether housing is finally out of the woods.
"I'm a little nervous about saying the word 'recovery'," Miller added.
Still, early indications are good that the worst could finally be over for the housing market. And that could be a sign of good things to come in other parts of the economy, too.
Jobs: A housing recovery is likely to have the most direct effect on construction jobs -- and that's no small feat.
The construction industry was one of the hardest hit sectors, slashing 2.3 million jobs, or roughly a quarter of all the American jobs lost in the financial crisis.
As of July, the unemployment rate for construction workers was 12.3%, much higher than the 8.3% unemployment rate for the broader U.S. population.
But a glimmer of hope also showed up in last month's numbers: Homebuilders added 5,800 workers in July -- about the same number they were adding during the real estate boom of 2005 and 2006.
A stronger housing market also translates into more jobs for real estate agents, furniture manufacturers, plumbers, architects and engineers.
Trying to estimate the gains for all these spillover industries is difficult, but economists at High Frequency Economics predict that hiring in housing-related sectors will soon pick up to a pace of 35,000 to 40,000 jobs a month.
Mobility: A housing recovery could help boost hiring in another way.
One of the big problems with the current job market is that there are jobs open, but many of the qualified applicants are in the wrong place at the wrong time. Relocating to follow the jobs isn't an option for those who can't sell their houses.
For example, jobs are booming in energy-rich states like North Dakota, Oklahoma and Kansas, but that doesn't help the qualified job seekers who are tied to their homes in Nevada, Florida and Arizona.
If home sales start improving in these areas, that may finally free up some people to move to where the jobs are.
"As home prices start to increase, that would be a good change for people that cannot get out of a state or city because they cannot sell their homes," said Eugenio Alemán, Wells Fargo senior economist.
Spending: Consumer spending -- which is one of the largest components of the U.S. economy -- has dragged in 2012. Without spending, the economy can't get back on its feet.
Since the recession, consumers have been reluctant to open their wallets and have shunned spending in favor of paying off debt.
But a housing recovery could also have a strong effect on consumer spending. As home prices rise, so too does the perceived wealth of middle-class families.
Of course, a home isn't a liquid investment like cash, but often just the perception of having a higher net worth can propel consumers to go out and spend.
Economic growth: All of these effects working together could contribute to growing the broader economy. But they're still a long way from being fully realized.
The housing market is often cited as one major drag on economic growth. As the housing sector shrank, so did its share of the national economy.
Historically, residential real estate has accounted for roughly 5% of U.S. gross domestic product. Since the recession, that has halved, with residential investment now accounting for just 2.3% of the broader economy.
For it to get back to the 5% level, the recovery will probably have to continue for at least three to four years, Alemán said.
"We are cautiously optimistic on the recovery of the housing market, because it's still very in its infancy," he said.