U.S. stocks ended with slight gains Friday afternoon, as investors welcomed positive comments from Washington lawmakers on the fiscal cliff negotiations but remained cautious ahead of an actual deal.
The Dow Jones industrial average, S&P 500 and Nasdaq added between 0.3% and 0.6%. Despite the day's uptick, stocks ended another week in the red. The Dow and Nasdaq fell 1.8%, while the S&P 500 declined 1.5%.
The three major indexes fell between 0.5% and 0.9% at the start of trading Friday, but were quickly pulled into positive territory after top congressional leaders seemed optimistic following their meeting with President Obama about the fiscal cliff, the automatic onset of tax increases and spending cuts starting in January.
House Speaker John Boehner called the meeting "very constructive," noting that he outlined a framework that includes revenue and is "consistent with the president's fair and balanced approach."
And Senate Majority Leader Harry Reid said that he felt "very good" about the talks and believes that they now have "the cornerstones of being able to work something out."
Though markets were able to end the week on the upside, trading will likely remain choppy as the fiscal cliff remain in the spotlight.
"The encouraging noises emanating from Washington make it more likely, although it is still far from certain, that a deal to prevent the fiscal cliff will be reached and that any adverse impact on the economy will be fleeting," said John Higgins, senior markets economist at Capital Economics. "However, the stock market is likely to remain under pressure until a deal is done."
Investors have been on edge since Election Day while keeping close tabs on the fiscal cliff debate. Since Obama's re-election last week, all three indexes are down about 5%. T
And the Nasdaq composite is down more than 10% from its 12-year high reached in September, putting the tech-heavy index in correction territory.
Earlier Friday, a Federal Reserve report showed U.S. industrial production fell 0.4% in October. While the data fell short of economists' forecasts, it was likely impacted by Superstorm Sandy.
Investors will also mull the Federal Reserve's latest guidelines for bank stress tests, released Thursday evening.
In Europe, investors also have their attention on the fiscal cliff negotiations in the United States. Britain's FTSE 100 and the DAX in Germany fell 1.3% and France's CAC 40 slipped 1%.
Asian markets ended mixed. The Shanghai Composite lost 0.8%, while the Hang Seng in Hong Kong gained 0.2%, and Japan's Nikkei rose 2.2%.
Companies: Dell (DELL) shares tumbled nearly 7% after the company announced disappointing third quarter results late Thursday, falling short of forecasts on both revenue and earnings. Income fell 47% over the same period last year, on weak PC sales. Rival Hewlett-Packard (HPQ), also fell, making it the biggest laggard on the Dow. HP is set to report its latest earnings next Tuesday.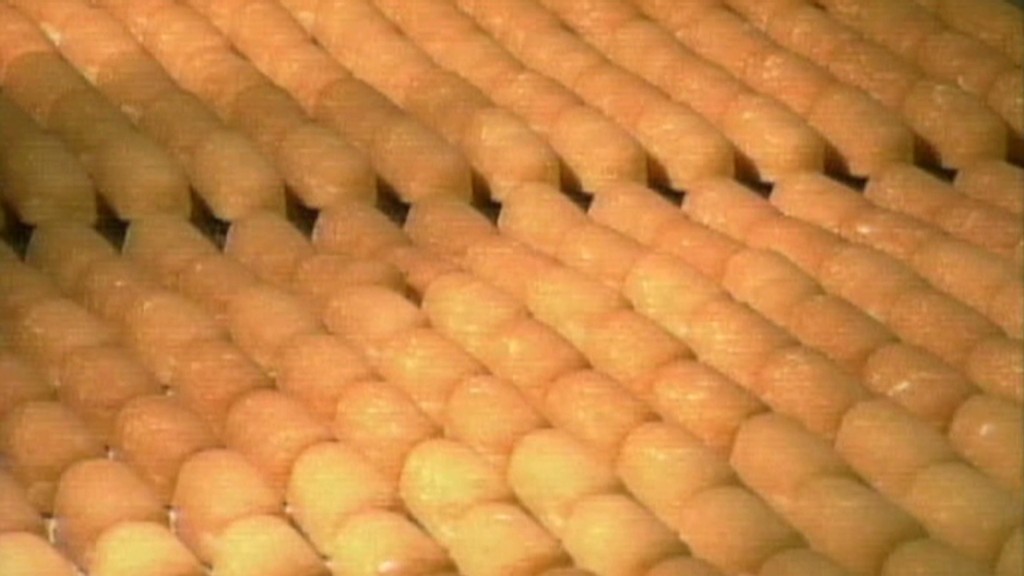 Gap (GPS) shares rose after the retailer reported strong third quarter earnings late Thursday.
Sears Holdings (SHLD), led by hedge fund manager Eddie Lampert, posted a quarterly loss Thursday of $498 million, much worse than analysts were expecting and wider than its year-earlier loss. Sales slid about 6% during the quarter. Shares of Sears sank 20%, making it the worst performer on the S&P 500.
Facebook (FB) rose more than 6% Friday, capping a strong week for shares of the social network. The stock gained more than 20% despite fears of a sell-off following the expiration of a lock-up period for more than 800 million shares.
Currencies and commodities: The dollar rose against the euro and the Japanese yen, but slipped versus the British pound.
Crude oil for December delivery rose $1.22 to settle at $86.67 a barrel.
Investors are closely watching violence in the Middle East. Israel launched a series of air strikes Wednesday on what it said were terrorist targets in Gaza, and the Palestinian group Hamas vowed retaliation.
Gold futures for December delivery added 90 cents to settle at $1,714.70 an ounce.
Bonds: The price on the benchmark 10-year U.S. Treasury edged higher, pushing the yield down to 1.58% from 1.59% late Thursday.