The Dow is now in uncharted territory, having edged past previous high-water marks during Tuesday's trading session.
U.S. stock futures were higher ahead of the market open, and a stronger-than-expected jobs report could boost momentum going forward.
The ADP National Employment Report showed that private-sector employment increased by 198,000 jobs in February. That was far in excess of the expected increase of 150,000, from Briefing.com's consensus of economist opinion.
The Dow Jones industrial average reached a record high Tuesday, climbing more than 125 points to close at 14,253.77. It also set an intraday record of 14,286.37. Both prior records were set in October 2007.
Also Tuesday, the S&P 500 finished at its highest level since October 2007 and is now only about 2% away from its record closing high.
"The world has seen fairly big divergences in recent years and the U.S. is leading the pack in the recovery due to extraordinary levels of fiscal and monetary stimulus," wrote Deutsche Bank strategist Jim Reid, in a research note. "Some of the other markets may not pass their peaks for many, many years to come, showing the stress that's still present elsewhere."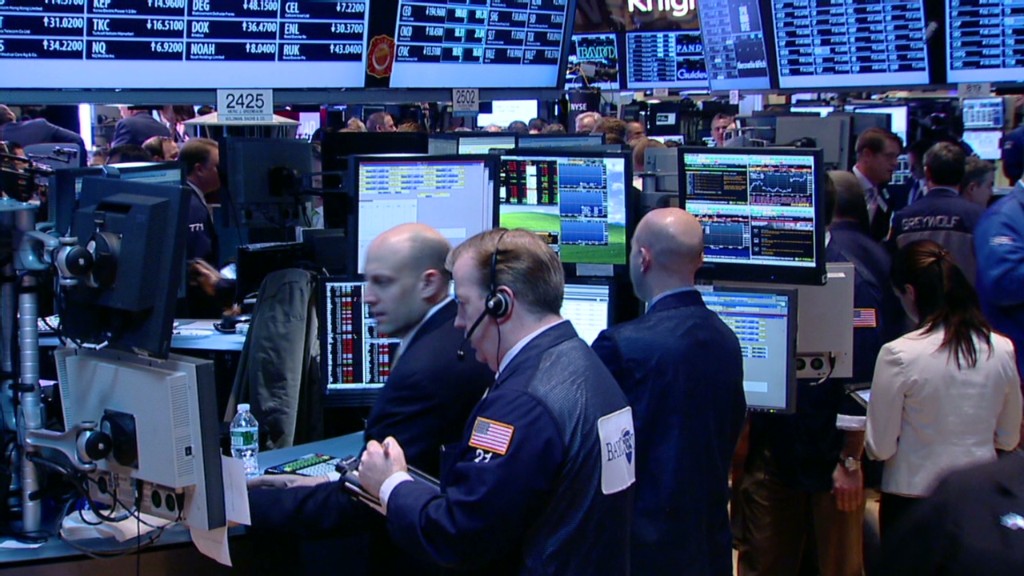 Whether the recent momentum will hold is anybody's guess. But investors looking for guidance about the what's coming next will have several economic reports to consider going forward.
The strong payroll report from ADP serves as a precursor to Friday's all-important monthly jobs report.
Also, at 2 p.m. ET, the Federal Reserve will release its Beige Book report on economic conditions.
In corporate news, office supply company Staples (SPLS) reported fourth quarter results before the bell, showing a 3% increase in sales but a one-third plunge in profit, triggering a 4% decline in its stock price in premarket trading.
Also, the European Union fined Microsoft (MSFT) €561 million, or about $730 million, for failing to provide users of Windows 7 with a choice of Internet browser. The stock edged down just slightly in premarket trading.
Related: Fear & Greed index inching toward extreme greed
Shares of gunmaker Smith & Wesson (SWHC) fell 2% in premarket trading, even as the company reported strong third quarter earnings and said gun sales were soaring.
JC Penney's (JCP) shares were down 1% in premarket trading, after falling more than 10% on news that one of its biggest shareholders dumped 40% of its stake. The struggling retailer is in the third week of a court battle with Macy's (M), which claims that Martha Stewart Living Omnimedia violated a previous agreement by entering into a new partnership with J.C. Penney.
South Korean electronics company Samsung agreed to take a 3% stake in Japanese company Sharp.
European markets advanced in morning trading, with indexes at their highest points in more than a year, led by Germany's DAX index. Asian markets ended higher. The Shanghai Composite added 0.9%, the Hang Seng increased 1.0% and Japan's Nikkei rose 2.1%.