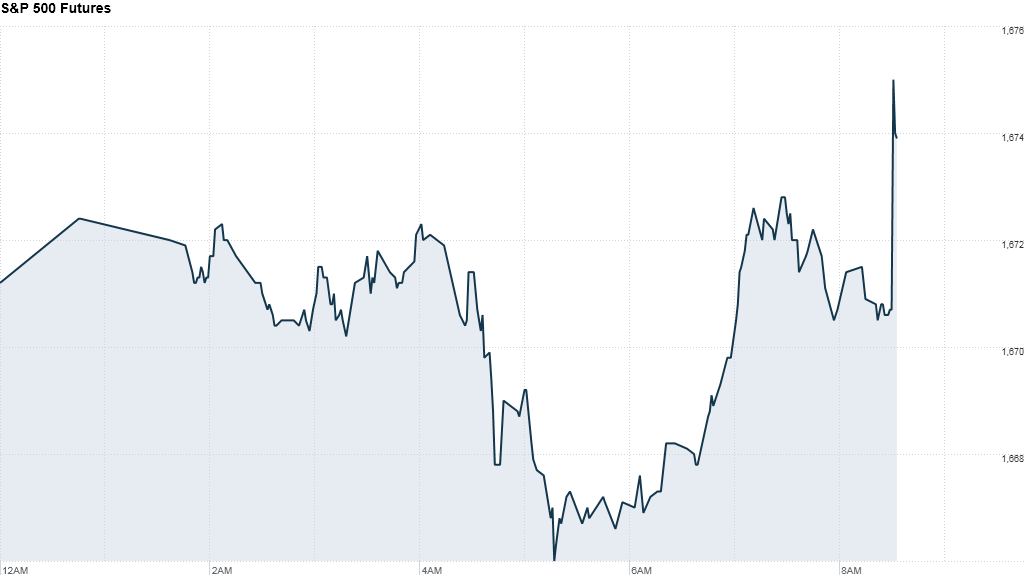 Investors hit the pause button early Wednesday ahead of further comments from U.S. Federal Reserve chairman Ben Bernanke.
U.S. stock futures were little changed ahead of the open.
In written testimony released early Wednesday, Bernanke reiterated that monetary policy will remain "highly accommodative" for the foreseeable future. However, he added that the Fed's $85 billion-per-month bond buying program is "by no means on a preset course."
Bernanke said that the pace of the program could increase if the economy falters, but he stressed that it could also be reduced "somewhat more quickly" if the recovery accelerates.
Investors will be looking for more clues on which direction the Fed is leaning when Bernanke goes before the House Financial Services Committee at 10 a.m. ET.
Related: Don't 'panic-sell' bonds
Investors have been keeping a close eye on movements at the Fed, since the central bank's quantitative easing measures have kept the markets awash with liquidity and helped spur recent stock market highs. But Societe Generale analyst Kit Juckes said he isn't expecting anything newsworthy from Bernanke.
"It isn't clear to me at all why this should be a surprise to anyone by now, and I doubt there is much further to go on the downside for U.S. yields -- a massive collective yawn followed by a search for new information seems more likely -- but is possible that the calming tone will have more impact across other markets," wrote Juckes in a market report.
The Fed will also release the latest edition of its Beige Book, a report on regional economies, at 2 p.m. ET, while the Census Bureau will publish data on housing starts and building permits at 8:30 a.m. ET.
U.S. stocks fell slightly Tuesday, snapping an eight-day winning streak for the S&P and a three-day run of gains for the Dow, as investors considered a batch of mixed corporate results.
Related: Fear & Greed Index, still greedy
In the corporate world, Bank of America (BAC) released its second-quarter results before the opening bell, reporting a 63% surge in quarterly profit to more than $4 billion.
Yahoo (YHOO) shares rose more after the company reported a jump in profit though quarterly sales fell slightly short of both Wall Street's expectations and its own results from a year earlier.
CSX (CSX) shares rose nearly 2% in premarket trading after the rail company reported quarterly earnings that beat expectations.
Results are due Wednesday afternoon from firms including IBM (IBM), Intel (INTC), eBay (EBAY) and American Express (AXP).
European markets gained slightly morning trading, while Asian markets closed with mixed results. The Shanghai Composite index dipped fell by 1%, while Hong Kong's Hang Seng index and Tokyo's Nikkei each moved slightly higher.