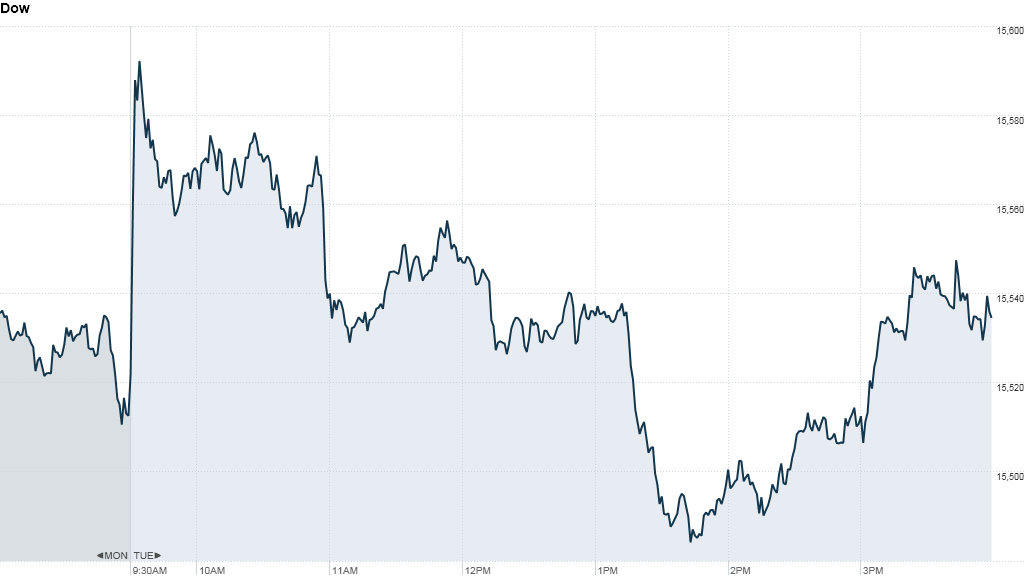 U.S. stocks barely moved Tuesday, as investors cautiously awaited the latest from the Federal Reserve and Friday's monthly jobs report.
The Dow Jones Industrial Average and the S&P 500 were flat. The Nasdaq rose 0.5%, hitting an almost 13-year high.
The Fed began its two-day policy meeting, which culminates with a statement from the central bank Wednesday afternoon.
The Fed's stimulus programs have played a big role in fueling the current bull market and investors are keen for any hints about how and when its latest $85 billion-a-month bond buying spree might get unwound.
Click here for more on stocks, bonds, commodities and currencies
"This week is all about Wednesday through Friday and what the Fed will say then," said Ryan Detrick, an analyst at Schaeffer's Investment Research.
The biggest news this week will be the July jobs report. Last month's report showed marked improvement in the labor market and investors are hoping to see that momentum continue. Economists surveyed by CNNMoney expect 180,000 jobs were added in July. The unemployment rate is expected to tick down to 7.5% from 7.6% in June.
In other economic news, the S&P/Case-Shiller home price index jumped 12.2% in May, marking the biggest year-over-year gain since 2006, near the peak of the housing bubble. On the flip side, a report showed consumer confidence fell more than expected in July
Related: Fear & Greed Index mired in greed
Facebook boosts tech sector: Facebook (FB) shares came within spitting distance of their IPO price of $38 after the social network debuted Mobile Games Publishing, a program aimed at helping small-to-midsized game developers. The stock closed at $37.61 after trading as high as $37.96.
Other tech shares continued to rise on the heels of last week's strong earnings reports. Electronic Arts (EA) was among the Nasdaq's biggest gainers Tuesday, while Apple (AAPL) continued to nudge higher.
Tuesday's movers: Earnings continued to give investors a lot to chew on Tuesday.
Herbalife (HLF), the controversial nutritional supplement maker that's been targeted by hedge fund manager Bill Ackman, reported better-than-expected earnings and raised its guidance.
Goodyear Tire and Rubber Company (GT) blew past analyst estimates, sending its shares up more than 8%.
Shares of Pitney Bowes (PBI) surged on news that Apollo Global Management (APO) will acquire its management services business for about $400 million in cash. Pitney Bowes, which also reported better-than-expected earnings, was among the biggest gainers on the S&P 500.
Dow component Pfizer (PFE) reported a drop in earnings that nonetheless beat analysts' forecast by a penny a share.
Shares of BP (BP) fell after the company's quarterly results missed market expectations. BP reported a drop in earnings due, in part, to lower oil prices and higher taxes. BP is also expecting to pay more in U.S. settlements related to the massive Gulf of Mexico oil spill in 2010.
Related: JP Morgan settles electricity manipulation case
Barclays (BCS) said it will be selling $8.9 billion in new shares at a discounted price to existing shareholders to meet capital requirements set out by regulators.
CBS (CBS) and Time Warner Cable (TWC) agreed to continue negotiations on the fee the cable operator pays to carry Showtime as well as CBS in the nation's largest markets. The new deadline that could see 3 million Time Warner Cable customers lose the networks was pushed back to Friday.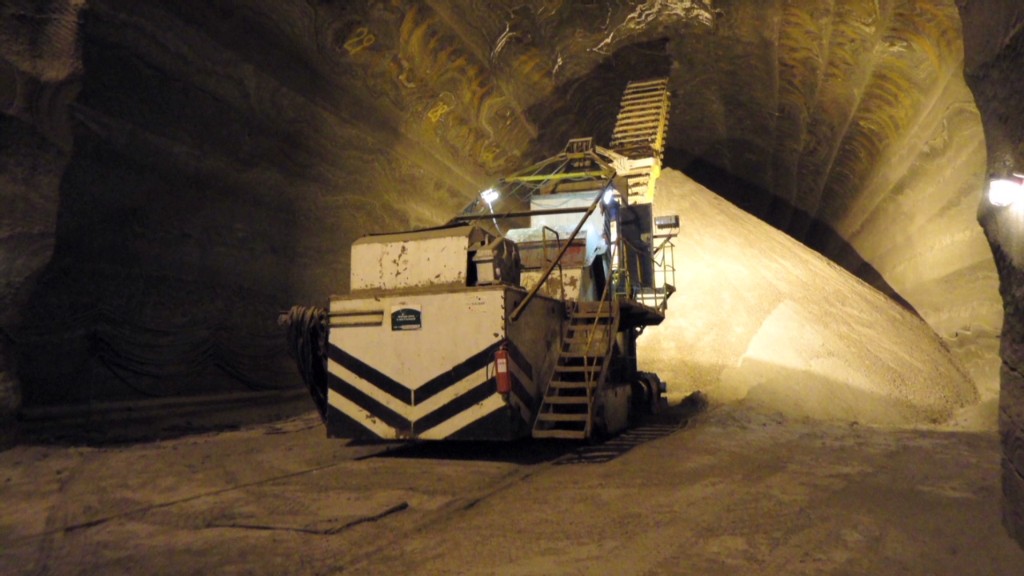 Best of StockTwits: On any given day, the chatter on StockTwits centers around high-profile stocks in the news and on the move. Here's a look at some of them.
Shares of potash producers like Mosaic (MOS) and Canadian-based Potash Corporation (POT) and Agrium (AGU) plunged, after a Russian potash producer pulled out of a cartel. That move is expected to send prices of raw materials used in fertilizers sharply lower.
LDMMcCleary: Wow, tough day coming for fert cos $AGU, $POT $MOS on predicted worldwide decline in potash prices.
Sprint (S) reported a loss for the quarter as it shut down its Nextel network and moved millions of subscribers to its Sprint platform. The loss comes even as the company boosted sales.
monk43: $S With NEXTEL/IDEN off the books & influx of capital from BO, balance sheet is clean. Nothing but upside from here. Doubling my position.
3-D Systems Corp. (DDD) shares fell after its quarterly earnings report missed expectations. Despite more than doubling its quarterly revenue from printer sales year-over-year, the company also doubled its spending on research and development.
JS_TWITS: $DDD This is just an oversell from the amount of people trying to get free money on a earnings beat and then when didnt get it, panic sell